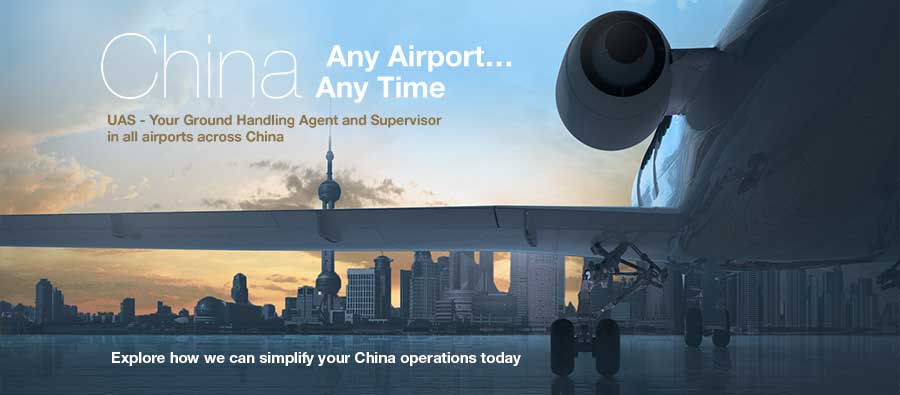 Blog
UAS Boosts Ground Service Offering Across China
Go back to main page
UAS Boosts Ground Service Offering Across China: UAS has expanded its capabilities in China and bolstered its client offering by becoming a domestic handling agent providing handling services across the country. With the new UAS China network of dedicated local agents in position, foreign operators will now have easier access to all categories of business airports in the region.
Dedicated UAS China agents are already operating at major business aviation hubs such as Beijing, Shanghai, Shenzhen, Hangzhou, Xi'an, and Guangzhou, which represent some of the country's most active executive destinations.
UAS China clients are benefiting from having a local UAS contractor on-site to deliver priority ground handling, dedicated supervision and significantly the convenience of liaising with a single source for all ground handling and trip support services at China's pivotal business aviation gateways. This synchronized handling and support is of particular benefit for international operators and fleets as it helps navigate the complexities of the aviation landscape by reducing points of contact, simplifying the trip planning process, and emulating the high standards delivered by UAS globally. Support continues with English speaking personnel on hand to support all requirements for the duration of the client's stay in China.
The enhanced service offering complements the existing ground supervision delivered by UAS station managers throughout China, as well as UAS' bespoke trip support solutions for VIP passengers and crew members. UAS clients will also benefit from competitive pricing with tailored pricing packages to help operators optimize their operations costs.
"This positions UAS as the only partner a client will need in China. As a one-stop-shop for all business aviation needs, we can ensure our clients benefit from improved operational efficiency and reduced operating costs supported by our enhanced service, competitive pricing, and extended capabilities," said Omar Hosari, UAS Co-Owner/Founder and CEO.
"As China's internal and international business aviation sector rapid development continues we're providing international operators and customers consistent, reliable services in the dynamic operating environment of Greater China. By delivering this and guaranteeing the UAS Standard of Quality at every location, we're aiming to give our clients exactly what they need along with an improved customer journey," he added.