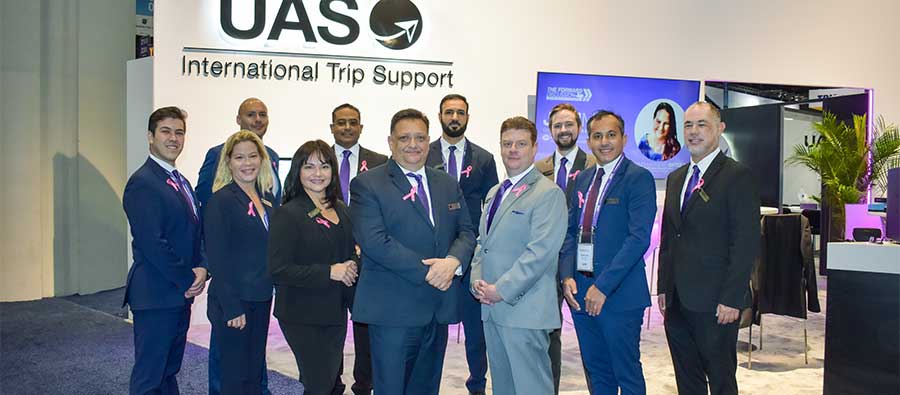 Blog
UAS Delivers White Glove Service through an Unrivalled Global Network
Go back to main page
UAS has expanded its global network of onsite supervisors across airports in the United States, Mexico, Brazil, and Colombia with plans to extend further in the near future.
Complementing its established station manager and VIP supervisor networks in Mainland China and Africa, this expansion enables the global trip support solutions provider to provide the ultimate white glove service to its international client base and alleviate time-consuming trip planning responsibilities enabling them to focus on its core business.
UAS clients across North and South America are now benefiting from having a local UAS supervisor onsite to deliver priority ground handling, dedicated supervision, and the convenience of consulting with a single source for all trip support services at pivotal business aviation gateways.
The expansion also brings with it the advantage of more competitive pricing with tailored pricing packages to help operators optimize their operations costs.
Today, the UAS Global Network spans five continents and more than 30 countries with the power to move supervisors into any global location where they are needed to ensure flawless operations representing a new level of customer experience in the established and emerging markets of the Americas.
UAS supervisors have a wealth of experience and local knowledge, handle all pre-planning and information checks, and mobilize ground service providers to ensure operators and passengers can have a smooth and stress-free travel experience.
"Our supervisors navigate the common operator pain points by reducing the number of contact points, simplifying the trip planning process, and emulating the high standards delivered by UAS globally," says UAS Co-Owner/Founder and Executive President, Mohammed Husary.
Visit the UAS team at NBAA-BACE booth 2085.
For support with your flight operations to World Cup 2022, contact UAS