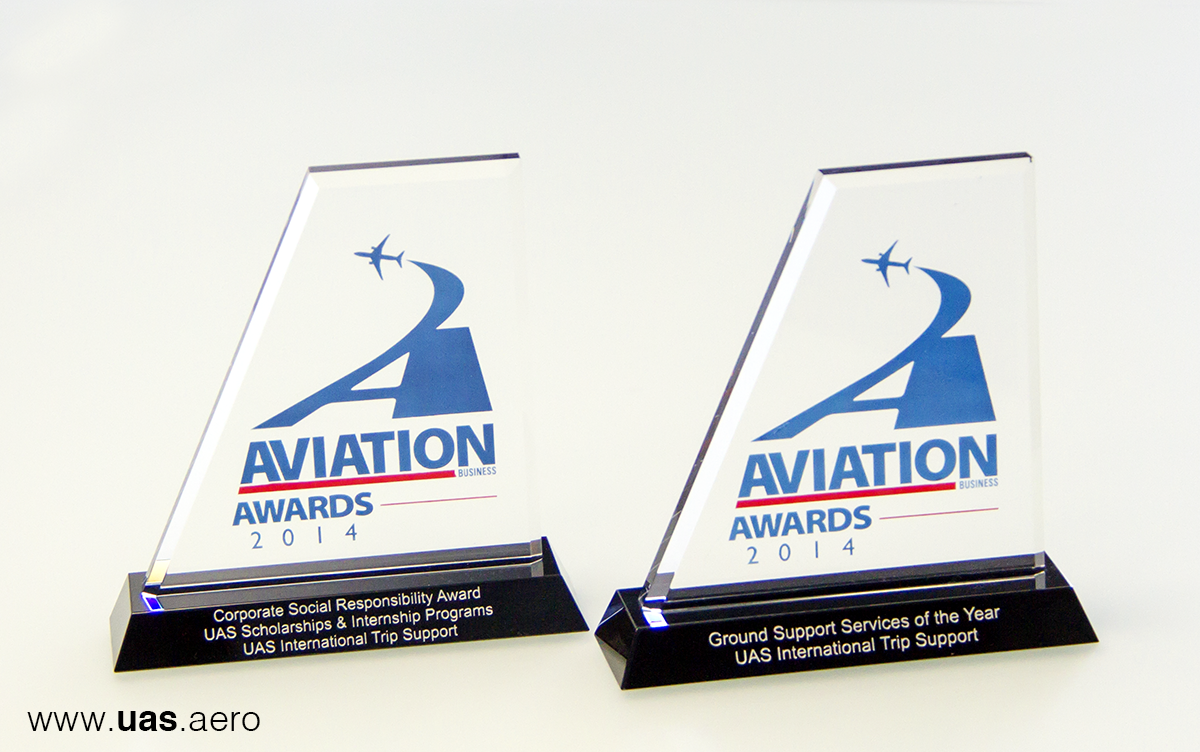 Blog
UAS Scoops Two Aviation Business Awards 2014
Go back to main page
UAS International Trip Support is honored to have been named 'Ground Service Provider of the Year' and to have also received the 'Corporate Social Responsibility' award, at the Aviation Business Awards 2014, held on November 17, 2014.
Ground Service Provider of the Year
The award recognized UAS' commitment to providing quality and reliable ground handling support. UAS has embarked on an aggressive growth strategy with a large investment in bridging the service gap in developing regions. For example, UAS has stationed its own IATA certified on-site supervisors with ramp access in 9 countries in Africa as well as in China. Within the next year, UAS plans to become the first International Trip Support provider to have its own supervisors in every country in Africa. This is in addition to our extensive network of preferred handlers who must meet international standards and best practices.
The "Ground Service Provider" category recognized the top performing International Trip Support company in the region, based on performance parameters such as service quality, global network, and operational performance. The recognition for UAS is a reflection of our continued success and solid growth during the course of the past years, placing us at number one among all regional ISPs.
Corporate Social Responsibility Award
The Corporate Social Responsibility Award was dedicated to UAS for the impact of our CSR activities on customers, employees, shareholders, and communities. UAS was recognized for the 'UAS Scholarships& Internship Program'. UAS also sponsors a number of different scholarship programs, including the annual International Operators Conference scholarship, presented in coordination with NBAA and the IOC committee. In addition to the various professional advancement programs we support, UAS is also partnered with the Make-A-Wish foundation and Orbis which operates the world's only flying eye hospital.