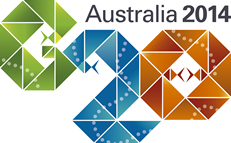 Blog
Australia G20 Summit 2014
Go back to main page
Australia's G20 presidency runs from 1 December 2013 to 30 November 2014 and that the G20 summit is taking place on 15 and 16 November at the Brisbane Convention and Exhibition Centre in Queensland. In order to ensure your travel to and from the summit goes as smoothly as possible, UAS has compiled a list of important information and advice.
Australian Immigration
Passengers 
All travellers to and from Australia must fill in Incoming and Outgoing Passenger Cards. This is required in addition to any visa requirements you may also have. The Australian Customs and Border Protections Service has compiled information about this in several languages.
Crew 
Every licensed crew member must complete an incoming crew card.
Visas: Citizens of the EU do not require a Visa however, every person on-board must complete a pre-arrival registration. For more information about the specific requirements for every nationality and to fill in your pre-arrival registration.
Quarantine Rules
Every international arrival will be met by a Quarantine Officer who will board the aircraft to ensure that insecticide spray has been used (they will ask to see the empty spray cans). If the spray has not been done before arriving into Australia, Quarantine require that everyone remains on board with all doors closed for a minimum of 10 minutes until the spray has been completed.
Quarantine also require a Certificate of Disinsection upon arrival. The Pilot in Command (Captain) will need to sign and present this certificate to the Quarantine Officer on arrival.
When the aircraft arrives on stand, Quarantine and the operator's nominated aircraft catering company will perform a 'strip down', where they remove every piece of rubbish and waste food and dispose of it according to local legislation.
Aircraft Parking
There are two aprons in use for international arrivals at YBBN. The General Aviation apron (prior permission required to coordinate customs and immigration) and the International Apron. During the G20, aircraft will typically be received and prepared for departure on the General Aviation apron. Expect over-night parking on the international apron due to parking restrictions.
We encourage operators to contact us now to have the best opportunity to secure parking slots for their aircraft.