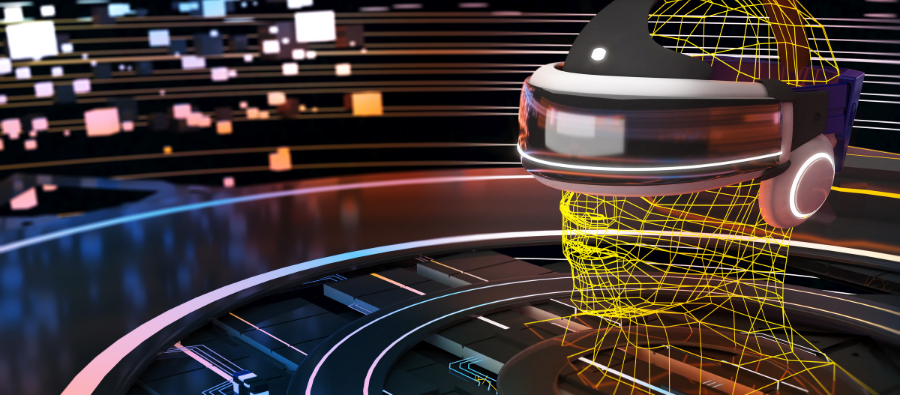 Blog
Aviation Building its Presence in the Metaverse
Go back to main page
The innovation that's characteristic of the aviation industry is being demonstrated in how brands are using the metaverse to showcase their offerings. The metaverse is a digital space that allows platforms using augmented reality (AR) and virtual reality (VR) to create immersive audience experiences like never before, and it's about to revolutionize how we interact online.
VR surrounds digital spaces accessed through the use of a headset, whereas AR is about bringing digital objects to the real world. As they become more widespread, we will begin seeing brands exploring more imaginative ways to connect with customers. Some companies are already launching VR and AR applications designed to entertain, informa, and to help buyers test and shop their products. This means that users demanding a more personalized experience will be able to interact closely with people, products, and services no matter where they are in the world.  And for brands, it means greater customer reach and engagement. Most importantly, the metaverse will give us the capacity to measure the customer experience like never before. It will be a major tool for e-commerce allowing airlines and operators to access new audiences and markets and attract more attention. We're seeing it already in fact, Mark Zuckerberg's Meta Platforms is set to open its first physical store where shoppers can try out and buy virtual reality headsets and other gadgets.
Recently, Qatar Airways launched a virtual reality (VR) experience called QVerse for visitors to its website. You can now take virtual tours of cabin interiors, the Business Class – Qsuite, and the Premium Check-in area at Hamad International Airport. Qatar Airlines has also introduced a MetaHuman cabin crew offering a digital interactive customer experience making it the first global airline to do so. Emirates has plans to invest $10 million USD to build their brand experience in the metaverse with other airlines including Singapore Airlines, Lufthansa, and Qantas also working on their presence there.
It's not just airlines… OEMs are also working on their metaverse strategies. Boeing is working on uniting design, production, and airline services under a single digital ecosystem, as well as working with immersive 3-D engineering designs with robots; building aircraft in the virtual world. Airbus is also planning to develop new production systems and use data to optimize its systems.
It's no surprise that the aviation industry is entering the metaverse in intriguing ways—it is often among the first to utilize advancing technologies… at UAS we are also working on the continuous investment and development of business aviation technology that empowers operators to do their jobs better, easier, faster, and more cost-efficiently. Stay tuned for more updates soon!
For more Executive Insight, visit UAS Blog