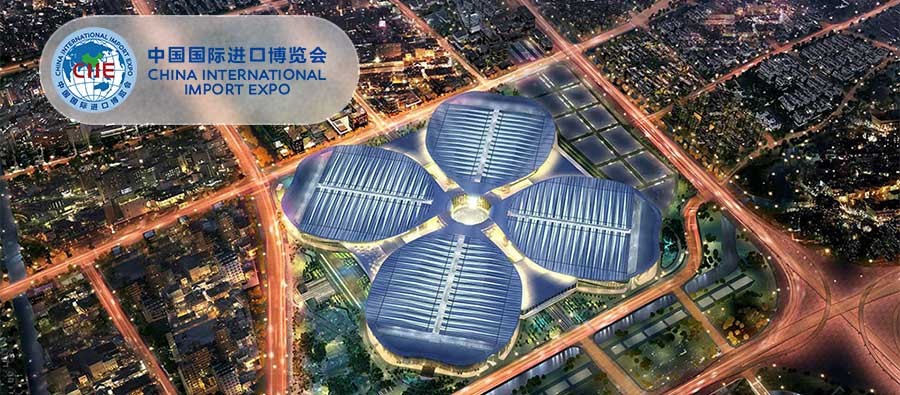 Blog
China International Import Expo 2020
Go back to main page
The China International Import Expo 2020 is underway at the National Exhibition and Convention Center in Shanghai.
It is the 3rd China International Import Expo (CIIE) and it's expected to welcome 400,000 visitors, marking one of the largest events across the world in 2020.
Smart custom entry
Fourteen designated immigration inspection channels have been opened at the Shanghai Pudong International Airport in preparation for the CIIE, according to the airport's border inspection station.
In addition, 15 self-service channels equipped with high-sensitivity facial recognition and anti-tailing alarm systems have been launched for airport staff at terminals 1 and 2.
Healthcare services
Shanghai has 33 designated hospitals as well as five on-site medical centers and 25 temporary medical observation points at the expo for CIIE guests.
Nearly 400 medical personnel are on standby.
Safety requirements
All participants should have a valid nucleic acid test negative certificate within 7 days (subject to the testing date) or 5 days (subject to the issue date of report)
All participants should monitor their own health status (14-day body temperature record, etc.) and sign the commitment letter on health and keep it for future reference
All participants should register to obtain the "Shanghai QR Code" (Shanghai Epidemic Prevention Health Information Code)
Participating units should fill out the Feedback Form of Coronavirus Nucleic Acid Test Information for Participants of 3rd China International Import Expo and its attachment List of Information on Nucleic Acid Tests for Participants of the Third China International Import Expo and affix the corporate stamps
The forms should be uploaded to the system (Relevant documents can be downloaded from the registration system)
Aircraft parking restriction
Shanghai Pudong/ZSPD: Charter (commercial airline) operations started receiving a notification from CAAC to avoid operating during the CIIE events and amend their schedule to operate to Shanghai/ZSPD 3-5 days after the CIIE events.
Shanghai Hongqiao/ZSSS: only receiving flights approved by CIIE organizers, no other flights are accepted.
Alternative airports 
Hangzhou Xiaoshan International Airport (IATA: HGH, ICAO: ZSHC) is approximately a one and a half-hour drive from Shanghai.
Nanjing Lukou International Airport (IATA: NKG, ICAO: ZSNJ) is approximately a two-hour drive from Shanghai.
For support with your flight operations to Shanghai, contact UAS