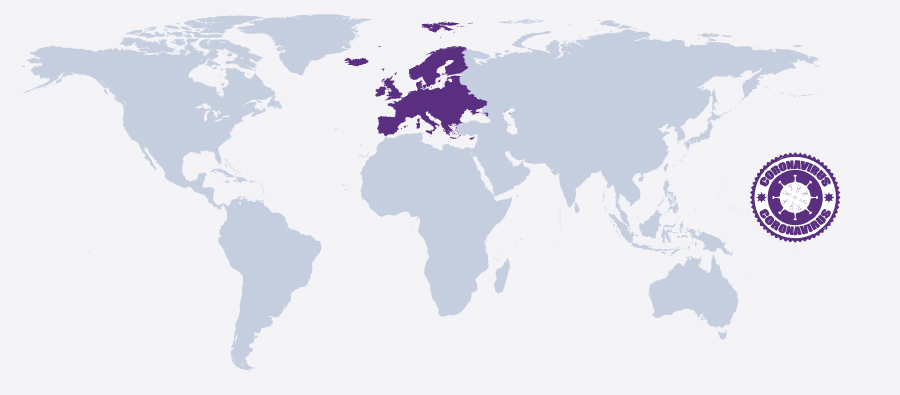 Blog
Coronavirus Travel Restrictions in Europe
Go back to main page
Coronavirus Travel Restrictions in Europe: The coronavirus pandemic continues to stifling travel across the globe. Today, we look at the relaxing travel restrictions imposed by countries in Europe.
Turkey
From August 6, all flights to/from Iran, Iraq, Afghanistan and Kazakhstan (including business jets) are not allowed to operate to Turkey.
Only ferry flights and ambulance flights to/from these countries will be processed by Turkish CAA.
All flights with passengers onboard including business and GA flights must apply through diplomatic channels.
Flights are allowed under the following conditions:
All passengers must wear masks throughout the journey and at the airport
Passengers must fill in passenger locator forms during the flight
Arriving passengers will be examined and tested if they have symptoms
Operators must meet published requirements from Turkish DGCA
Greece
All arriving passengers must complete a Passenger Locator Form (PLF) at least 48 hours before entering and provide detailed information on their point of departure, the duration of previous stays in other countries, and the address of their stay while in Greece.
Passengers will be met by screening personnel on arrival and depending on their QR code, will be brought for screening or allowed to progress to passport control.
Until the screening results become available, passengers tested for COVID-19 are obliged to self-isolate at the address of their final destination as declared on their PLF.
Passengers must also comply with the necessary preventive hygiene measures such as the use of face masks and physical distancing.
France
Trips into France for non-residents are for essential travel only.
Borders are due to reopen on June 15 to tourists from Britain, the EU and other Schengen countries.
Passengers arriving from the UK or Spain are expected to quarantine and provide a health certificate stating that they are negative for coronavirus.
Spain
Will reopen its borders to visitors from Europe's open-border Schengen area from 21 June and internationally from July 1.
Currently, visitors are expected to quarantine for 14 days on arrival.
Bulgaria
Opened borders to EU and UK visitors on June 1.
All arrivals are expected to self-isolate for 14 days.
Belgium
Banned all non-essential travel abroad, and all arrivals must self-isolate for 14 days.
The borders will reopen to citizens from EU and UK from June 15.
Many restrictions will remain in place until July 1.
United Kingdom
The UK have announced that as from 8 June all passengers and crew are required to complete the Passenger Locator Form (PLF) if travelling into the UK.
The PLF is an online form and can be found following the link here. A full
List of exemptions and further guidance on exemptions can be found here.
For those passengers not on the exception list, they must follow the UK self-isolation rules for 14 days.
Ireland 
All visitors, except those from Northern Ireland, must self-isolate for 14 days and must provide details of accommodation on their arrival, this includes Irish residents.
Austria
On June 4, borders opened to tourists from Germany, Liechtenstein, Switzerland, Slovakia, Slovenia, Czech Republic and Hungary. This will be extended to other EU countries from June 16.
Arriving tourists must show a medical certificate proving a negative Covid-19 test conducted within four days of travel.
Croatia
Has opened its borders without restriction to nationals from the Czech Republic, Hungary, Austria, Estonia, Latvia, Lithuania, Poland, Slovenia, Germany, and Slovakia.
Will reopen to the rest of the EU and UK citizens from June 15 with no quarantine.
Cyprus
Visitors from Greece, Malta, Bulgaria, Norway, Austria, Finland, Slovenia, Hungary, Israel, Denmark, Germany, Slovakia and Lithuania may enter with a health certificate proving they are virus-free three days prior their departure (this will end June 20).
From June 20,  travelers from Switzerland, Poland, Romania, Croatia, Estonia and the Czech Republic will be allowed in also with health certificate and negative test results on entry, or alternatively, they can pay €60 to be tested.
Britain, Russia, the United States, France, Spain, and Italy remain excluded for the time being.
Czech Republic
Residents of EU member states can enter for business, to visit relatives, or to study. All must prove negative test results on arrival.
Borders will open for tourists from the UK, EU and Schengen countries from June 15.
Denmark
Citizens and residents of Denmark, Greenland, or Faroe Islands are permitted to enter.
Residents of Denmark, Finland, Iceland, Norway, Sweden, and Germany can re-enter for personal or business reasons.
From June 15, the borders will open to tourists from Germany, Iceland and Norway, but other EU and UK nationals won't be allowed to enter until the end of the summer.
Germany
Borders should open to visitors from EU, Switzerland, Norway, Iceland, Liechtenstein, and the UK from June 15, but will remain for those from outside the EU until August 31.
Italy
Open to international tourists since June 3.
Visitors coming from outside the EU, Schengen area and the UK must undergo 14 days of quarantine if they haven't been to any other European country in the 14 days before their arrival in Italy.
Netherlands
Borders are open to tourists from EU and Schengen countries (except the UK and Sweden) but visitors must comply with strict social distancing requirements and wear masks on public transportation.
Travelers from high-risk countries must submit to 14 days of quarantine.
Poland
No self isolation requirements to tourists from the EU from June 13.
Some domestic flights are operating and international flights are expected to resume from July 16.
Currently, all non-essential arrivals must quarantine for 14 days.
Malta 
Currently, all arrivals must self-isolate for 14 days.
Borders will reopen to travelers from Germany, Austria, Cyprus, Switzerland, Sicily, Sardinia, Iceland, Slovakia, Norway, Denmark, Hungary, Finland, Ireland, Lithuania, Israel, Latvia, Estonia, Luxembourg and the Czech Republic from July 1.
Switzerland
Open to tourists from all EU countries, the UK, Iceland and Liechtenstein from June 15 with no quarantine measures.
Slovakia
All visitors must self-quarantine for 14 days on arrival.
Border open to visitors from Austria, Hungary, Czech Republic, Germany, Liechtenstein, Switzerland, Slovenia, Croatia, Bulgaria, Greece, Cyprus, Malta, Estonia, Latvia, Lithuania, Finland, Norway, Denmark, and Iceland since June 10.
All arrivals must self-isolate for 14 days on arrival. 
Latvia
Open to tourists from the EU and UK but they must self-isolate unless their country of origin has had 15 or less people per 100,000 inhabitants infected with coronavirus over the past 14 days.
Iceland
Will reopen to EU and UK visitors from June 15.
Tourists must choose to be tested on arrival or self-isolate for 14 days.
Children born after 2005 are exempt.
While the Information is considered to be true and correct at the date of publication, changes in circumstances after the time of publication may impact on the accuracy of the Information. The Information may change without notice and UAS is not in any way liable for the accuracy of any information printed and stored or in any way interpreted and used by a user.
For support with your flight operations, contact UAS 
Next, we'll look at travel restrictions for Asia, Africa, and Russia/CIS.