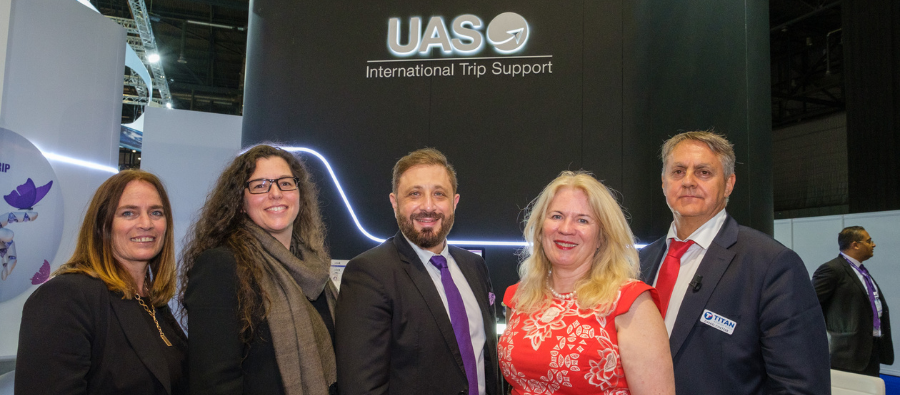 Blog
Creating a Sustainable Future for Business Aviation
Go back to main page
EBACE, like all other major industry events, is the perfect opportunity to inspire idea-sharing and create synchronicities. We at UAS wanted to bring different experts together to share their visions and hopes for the future, to give their companies a platform, and to support their ambitions to bring our industry forward. Therefore, we created The Forward Discussion and invited diverse experts to join us at our booth and discuss some of the most prominent trends in business aviation. Our second panel centered on sustainability and posed the question: How can we create a sustainable future for business aviation?
We welcomed some of the industry's outstanding sustainability experts and invited them to share their insight and expertise as panelists and discuss how sustainability initiatives are transforming the future of business aviation. They were Melanie Price, Head of Innovation and Design at F/LIST, a company that manufacturers high-end interiors for business and private jets using sustainable materials; Daniel Coetzer, CEO of Titan Aviation Fuels, and Nancy BeSales, COO of 4Air, a company that helps operators identify their aviation goals and achieve them by mitigating their carbon footprint.
Achieving carbon neutrality
Aviation is aiming to achieve net-zero emissions by 2050, and although sustainable aviation fuels are slowly becoming an option for operators, carbon offsetting is a popular choice right now, according to panelists. Let's be clear that carbon offsetting isn't just greenwashing, rather it's a bridge that will get us to a more sustainable industry. The panelists explained the process, and it's strict and tightly controlled. Firstly, all claims must be verified and validated as understanding the impact is at the heart of the exercise. Then, environmental auditors examine the claims and issue their findings to a public registry. This chain of accountability means dubious offset programs are hopefully a thing of the past. There are many areas that operators and service providers are contributing to their carbon footprint including the production of CO2 emission, their water consumption, electricity usage, transport, and logistical considerations, and how they handle their waste. The entire supply chain is considered. However, it's not only about mitigating emissions through offsetting, but also about investing in fantastic sustainability projects. Aviators are also constantly seeking better carbon neutral and conservation programs to invest in. Our panelists spoke about tree planting to actually create the material used in production, team-building projects in nature conservation, and rhino orphanages, as diverse examples.
Ensuring constant innovation
The panel also discussed the opportunities for greener products and a carbon-friendly supply chain, and their insight was fascinating—there is undoubtedly a world of opportunities. Considering materials used in manufacturing, removing harmful components from said materials, and cutting down on the waste and environmental cost of their creation is something that F/LIST has dedicated an entire team of R&D specialists to. There are so many new material options for cabin design that include both up-cycled materials and bio-based products. Material with vegan components already being used in the fashion industry is now being introduced to aviation. The C02 impact is being monitored by continuously assessing how much energy is being used and how things are being transported, etc. It would be difficult to listen to this discussion and not be convinced that aviation is without a doubt, the most innovative industry in the world.
You be the judge— listen to the discussion on our YouTube channel by clicking here.
For more Executive Insight, visit UAS Blog