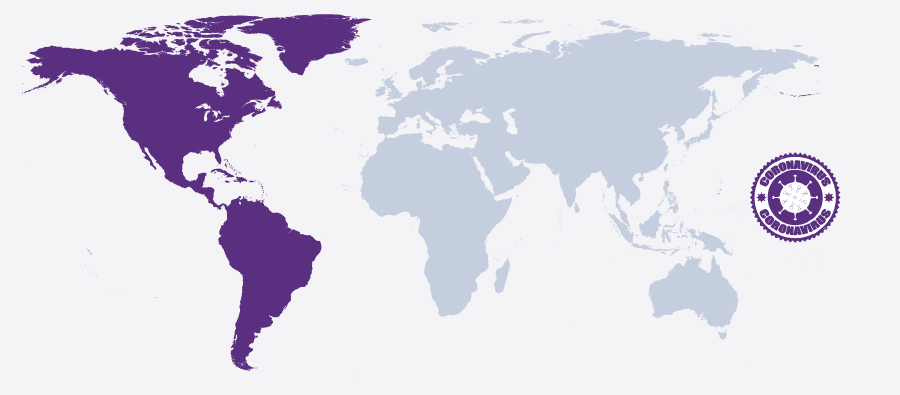 Blog
Coronavirus Travel Restrictions in the Americas
Go back to main page
Coronavirus Travel Restrictions in the Americas: The coronavirus pandemic is stifling travel across the globe. Here are the travel restrictions imposed by countries in the Americas.
United States
entry into the United States of all immigrants, with certain exceptions, is suspended. Exceptions are:
U.S. Permanent Residents
Persons currently holding VALID U.S. Visas or other Conditional Authorization for Travel (ie. Transportation Letter or Advance Parole Document) Issued prior to proclamation
The U.S. is not processing any new immigration applications from Aliens during this period unless they meet very specific criteria, i.e. National Security, assist in the fight against COVID-19, etc.
US officials have suspended entry for foreign nationals who have been in the UK within the last 14 days.
Passengers who have been in one of the countries listed in bullet number 1 in the past 14 days but are exempt from the restriction to enter the USA, must arrive at one of the following airports: Atlanta (ATL), Boston (BOS), Chicago (ORD), Dallas, (DFW), Detroit (DTW), Honolulu (HNL), Los Angeles (LAX), Miami (MIA), New York (JFK or EWR), San Francisco (SFO), Seattle (SEA) and Washington (IAD). Hawaii orders Mandatory 14-Day Quarantine for all individuals arriving or returning to Hawaii.
Canada
Canadians are being urged to avoid all non-essential travel and the government is urging passengers returning from overseas to self-isolate for 14 days.
Passengers who have been outside of Canada or USA in the past 14 days, are not allowed to enter. This doesn't apply to:
Nationals or permanent residents or their immediate families
Diplomats
Airline crew

A p

erson registered as an Indian under the Indian Act
Someone who enters at the invitation of the Minister of Health for the purpose of assisting in the COVID-19 response
Passengers with COVID-19 symptoms are not allowed to travel to Canada until they've self-isolated for 14 days or they can present a medical certificate that confirms the patient is free of COVID-19.
Passengers who have been refused boarding in the past 14 days due to a medical reason related to COVID-19 are not allowed to enter.
Passengers are required to self-isolate for a period of 14 days on arrival at their final destination.
Passengers who were in the cruise ship 'Diamond Princess' are subject to a mandatory 14-day isolation at a quarantine facility on arrival in Canada.
Cayman Islands
All airports in the Cayman Islands will remain closed to international leisure and non-essential travel until September 1.
General aviation is currently not possible except for the following operations:
Repatriation flights for Cayman citizens who have been stranded overseas
Repatriation of foreign nationals that are currently stranded in the Cayman Islands and need to return to their home country
Costa Rica 
Conditions and restrictions are very fluid and may change at any time.  CRCAA considers all operations on a case-by-case basis so contact the UAS Operations Team to see if your proposed operation may be feasible.
Both private non-revenue and non-scheduled commercial will require a landing permit.  Standard documentation, complete itinerary and manifest details will be required.
Costa Rica Civil Aviation Authority (CRCAA) suggests 24-48 hours for processing of the permit.
Jamaica
Closed to international passengers until May 31 with the following exemptions:
Outbound flights
Cargo and courier flights
Medevac and emergency flights
Technical stops for fuel only
Specially authorized flights
Domestic and diplomatic flights
Tech stops with no disembarkation
Citizens and people with written authorization from the Immigration minister may enter but will be tested for COVID-19 on arrival and must self-quarantine.
Turks and Caicos Islands
Closed to international passenger and GA flights until July 22 with the following exemptions:
Outbound flights
Cargo and courier flights
Medevac and emergency flights
Technical stops for fuel only
Specially authorized flights
Puerto Rico
All domestic and foreign general aviation and charter flights arriving from outside the country will be required to land first at SJU, SIG, or BQN for passenger screening before continuing on to their final destinations.
The country will open for visitors on July 15.
Panama 
The suspension of international commercial flights is extended until July 22.
A nightly curfew during 1900-0500 local time (0000-1000 UTC) is in place across the country except in the provinces of Panama and Panama Oeste.
Paraguay 
Closed all international borders to travel by persons until further notice.
Cargo is permitted to cross the borders.
Commercial flights have been suspended at all Paraguayan airports until further notice, with limited exceptions for repatriation flights.
The Paraguayan government considers all operations on a case-by-case basis, often requiring diplomatic involvement so contact the UAS Operations Team to see if a proposed operation may be feasible.
Operators should not consider an operation to Paraguay as confirmed until the special permit is obtained from the authorities. Conditions and restrictions are very fluid and may change at any time.
A 14 day quarantine period is imposed on arriving passengers.
Argentina 
Passengers arriving from areas with a significant number of cases will be required to go into quarantine for 14 days.
Brazil
Brazil reopened to foreigners' passengers on July 30
Passengers must present a proof of valid health insurance in Brazil to cover the entire trip
The usual visa requirements are still observed
The following international airports are still restricting the entry of foreigners until August 30: SBCG, SBCR, SBPA and SBPK, however Brazil has more than 15 Airports of Entry available
Colombia
Barring entry to any foreigner who has been to Europe or Asia within the past 14 days.
Colombians returning from affected areas will be quarantined for 14 days.
Cuba
Only nationals or resident can enter and they will have to do a 14-day quarantine.
El Salvador
Barring entry to all foreigners, except diplomats and legal residents.
Guatemala
Barring entry of citizens of the US, Canada, South Korea, Italy, France, the United Kingdom, China, and Iran.
Uruguay
All passengers arriving from China, South Korea, Japan, Singapore, Iran, Spain, Italy, France, and Germany must go into mandatory quarantine for 14 days.
Venezuela
Suspending all flights from Colombia and European countries for at least a month.
Peru 
Authorities have expanded the nightly curfew to 2100-0400 local time (0200-0900 UTC) in an effort to slow the growing transmission of COVID-19.
This will remain in effect until June 30 at the least.
While the Information is considered to be true and correct at the date of publication, changes in circumstances after the time of publication may impact on the accuracy of the Information. The Information may change without notice and UAS is not in any way liable for the accuracy of any information printed and stored or in any way interpreted and used by a user. 
For support with your flight operations, contact UAS 
Next, we'll look at travel restrictions for Europe, Asia, Africa, and Russia/CIS.