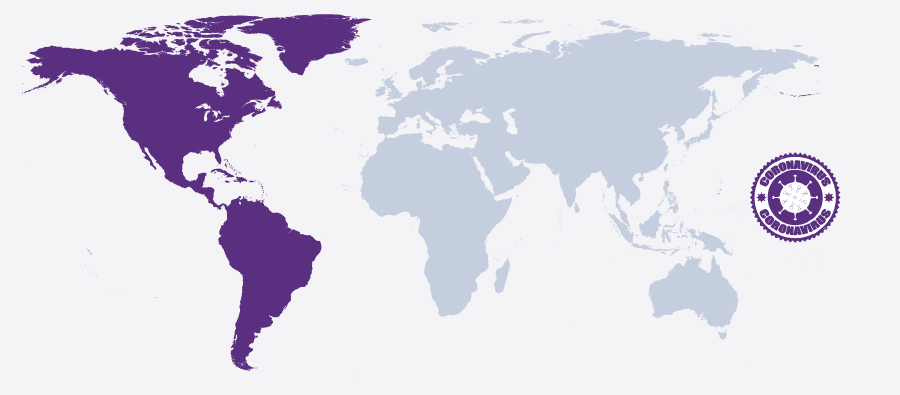 Blog
Coronavirus Travel Restrictions in the Americas
Go back to main page
Coronavirus Travel Restrictions in the Americas: The coronavirus pandemic is stifling travel across the globe. Here are the travel restrictions imposed by countries in the Americas.
United States
The US travel ban – which originally comprised the 26 countries of the Schengen Zone – has now been expanded to include Ireland and the UK.
All citizens and residents who have visited high-risk areas are required to fly to one of the following 13 airports on their return to the US:
Boston-Logan International Airport (BOS)

Chicago O'Hare International Airport (ORD)

Dallas/Fort Worth International Airport (DFW)

Detroit Metropolitan Airport (DTW)

Daniel K. Inouye International Airport (HNL)

Hartsfield-Jackson Atlanta International Airport (ATL)

John F. Kennedy International Airport (JFK)

Los Angeles International Airport, (LAX)

Miami International Airport (MIA)

Newark Liberty International Airport (EWR)

San Francisco International Airport (SFO)

Seattle-Tacoma International Airport (SEA)

Washington-Dulles International Airport (IAD)
Canada
Canadians are being urged to avoid all non-essential travel and the government is urging passengers returning from overseas to self-isolate for 14 days.
Passengers who have been outside of Canada or USA in the past 14 days, are not allowed to enter. This doesn't apply to:
Nationals or permanent residents or their immediate families
Diplomats
Airline crew

A p

erson registered as an Indian under the Indian Act
Someone who enters at the invitation of the Minister of Health for the purpose of assisting in the COVID-19 response
Passengers with COVID-19 symptoms are not allowed to travel to Canada until they've self-isolated for 14 days or they can present a medical certificate that confirms the patient is free of COVID-19.
Passengers who have been refused boarding in the past 14 days due to a medical reason related to COVID-19 are not allowed to enter.
Passengers are required to self-isolate for a period of 14 days on arrival at their final destination.
Passengers who were in the cruise ship 'Diamond Princess' are subject to a mandatory 14-day isolation at a quarantine facility on arrival in Canada.
Cayman Islands
Passengers are not allowed to enter
This doesn't apply to nationals and residents
This does not apply to passengers arriving from the UK
Nationals and residents and UK arrivals will be isolated for 14 days
Costa Rica 
Passengers are not allowed to enter unless they are nationals or residents.
Passengers are not allowed to transit unless they are from Austria, Belgium, Bulgaria, Costa Rica, Croatia, Cyprus, Czechia, Denmark, Estonia, Finland, France, Germany, Greece, Hungary, Iceland, Ireland, Italy, Latvia, Liechtenstein, Lithuania, Luxembourg, Malta, Netherlands, Norway, Poland, Portugal, Romania, Slovakia, Slovenia, Spain, Sweden, Switzerland, or the UK.
Nationals and residents of Costa Rica will be required to be in isolation for 14 days.
Puerto Rico
All domestic and foreign general aviation and charter flights arriving from outside the country will be required to land first at SJU, SIG, or BQN for passenger screening before continuing on to their final destinations.
Argentina 
Argentina will halt all flights from Europe and the United States for at least 30 days from March 17.
Passengers arriving from areas with a significant number of cases will be required to go into quarantine for 14 days.
Brazil
Since March 23, Brazil will restrict for 30 days entry of nationals from the following countries, and/or foreigners coming by air from the listed countries below, regardless of their nationality:
China, EU,  Iceland, Norway, Switzerland, UK, Australia, Japan, Malaysia, and South Korea.
The entry restrictions do not apply to:
Natives, residents, foreign crew, professionals, government workers, cargo transporters, transitting passengers, refueling aircraft, any passenger who has recently visited the countries refered to above.
Colombia
Barring entry to any foreigner who has been to Europe or Asia within the past 14 days.
Colombians returning from affected areas will be quarantined for 14 days.
Cuba
Only nationals or resident can enter and they will have to do a 14-day quarantine.
El Salvador
Barring entry to all foreigners, except diplomats and legal residents.
Guatemala
Barring entry of citizens of the US, Canada, South Korea, Italy, France, the United Kingdom, China, and Iran.
Uruguay
All passengers arriving from China, South Korea, Japan, Singapore, Iran, Spain, Italy, France, and Germany must go into mandatory quarantine for 14 days.
Venezuela
Suspending all flights from Colombia and European countries for at least a month.
Peru
Announced it would implement a ban on all flights from Asia and Europe.
While the Information is considered to be true and correct at the date of publication, changes in circumstances after the time of publication may impact on the accuracy of the Information. The Information may change without notice and UAS is not in any way liable for the accuracy of any information printed and stored or in any way interpreted and used by a user. 
For support with your flight operations, contact UAS 
Next, we'll look at travel restrictions for Europe, Asia, Africa, and Russia/CIS.