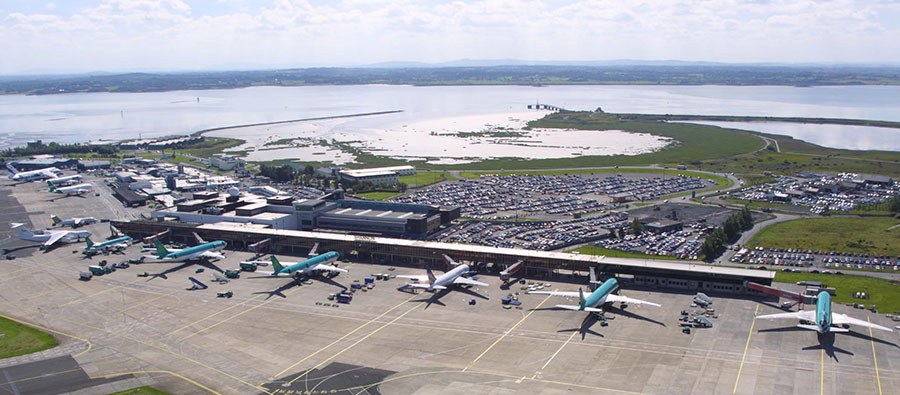 Blog
Six Benefits of Tech Stops at Shannon
Go back to main page
Six Benefits of Tech Stops at Shannon: A popular choice for technical stops, Shannon Airport is situated on Ireland's West Coast and is a gateway between the U.S. and Europe. Here are the advantages of considering Shannon for your next tech stop.
A full-service international airport, Shannon (SNN/EINN) is a long-standing transatlantic transit stop equipt with the infrastructure to handle any aircraft. With no restrictions, curfews, or congestion, Shannon has, for many decades, been associated with quick turnaround technical stops. Becuase 80% of North Atlantic air traffic flies over Ireland (and indeed, directly over Shannon), it is a logical, cost-effective location for technical stops, whether scheduled or unplanned. Here are some of the key benefits of tech stops at Shannon:
U.S. Preclearance Facilities
Shannon Airport has the only U.S. Customs and Immigration Preclearance facility for Business Jets in Europe and the Middle East. US Customs and Immigration Preclearance facilities at Shannon are operated by US CBP (Customs and Border Protection).
Efficient and Uncongested 
Shannon has dedicated transit facilities, quick turnarounds, and short taxi times and is fully equipped to handle corporate, military, charter, cargo and scheduled airline traffic. Air Traffic Control, flight services, weather services, emergency response and airport police are available 24/7/365. It also offers a choice of experienced FBOs and aircraft handling companies that ensure quick turnarounds and competitive pricing, as well as local MROs licensed to provide engineering cover. Shannon's runway measures 3,200m, making it the longest in Ireland and its single terminal operation ensures convenient, easy, and stress-free travel for passengers and crew.
Finally, North Atlantic Air Traffic Control is based in Shannon so westbound departing flights have direct access to optimum transatlantic tracks and levels (saving fuel and time).
Great Weather Conditions
The temperate climate and good flying, mild weather of the West of Ireland, with low snow and sleet averages mean de-icing is rarely required, resulting in lower costs and
higher on-time performance. Shannon has few instances of weather diversions and a team of forecasting and observing staff on duty 24/7/365.
Prompt Fuel Availability
Shannon offers competitive fuel prices and hydrant fuelling (only airport in Ireland) which guarantees a minimum turnaround time. Fuel services operate 24/7 and there are no uplift volume restrictions. Fuel is delivered by ship to Shannon Airport via a dedicated
marine jetty. The aviation fuel storage facility at Shannon is the largest in the state and can hold 50+ days' stock.
Accommodation and Leisure 
Shannon is situated centrally on the Wild Atlantic Way, the world's longest defined coastal touring route and one of the world's most diverse and spectacular coastlines. Many of Ireland's top tourist experiences are in the locality such as the Cliffs of Moher, Connemara National Park, and the Burren, as well as plenty of historical castles, world-famous golf links, parkland courses and traditional Irish pubs. There are a large number of four and five-star hotels within a 20-minute drive of the airport.
Convenient and Safe Crew Positioning
Shannon offers easy crew positioning with daily connections to London and North America. There is also a vast selection of hotels available at competitive prices. There are also a number of coach operators available.
For more information on Shannon Airport, visit http://www.shannonairport.ie 
For support with your operation or tech stop to Shannon Airport, contact UAS.