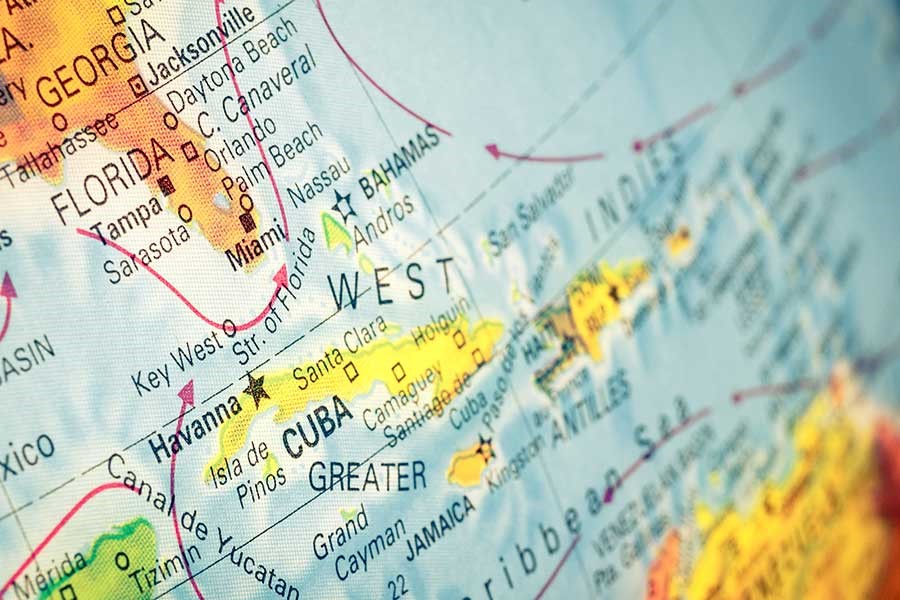 Blog
Flight Operations between U.S. and Cuba
Go back to main page
Know the latest on flying between the U.S. and Cuba? The first regular commercial flight from the United States and Cuba in over half a century took place on Wednesday, August 31. As the two nations work on strengthening the diplomatic ties restored last year, we answer your questions on how operations between the two will be affected for commercial aviation, general aviation, and charter. 
Commercial Aviation 
When did commercial operations between the U.S. and Cuba resume?
Operations resumed Wednesday, August 31, 2016.
Which U.S. commercial airlines are permitted to operate to and from Cuba?
Six airlines were chosen by the U.S. Department of Transportation for a total of 155 roundtrip flights per week:
1. American Airlines
2. Frontier Airlines
3. JetBlue
4. Silver Airways
5. Southwest Airlines
6. Sun Country Airlines
More U.S. carriers are likely to be added to the list in the future.
Which U.S. cities allow commercial flights to Cuba?
Flights will originate from five U.S. cities: Chicago, Miami, Fort Lauderdale, Minneapolis/St. Paul, and Philadelphia.
Which Cuban cities will accept commercial flights from the U.S.?
The nine Cuban destination cities are Camagüey, Cayo Coco, Cayo Largo, Cienfuengos, Holguín, Manzanillo, Matanzas, Santa Clara, and Santiago de Cuba.
Havana will begin taking flights from the following U.S. commercial carriers as well:
1. Alaska Airlines
2. American Airlines
3. Delta Airlines
4. Frontier Airlines
5. JetBlue
6. Southwest Airlines
7. Spirit Airlines
8. United Airlines
These flights to the capital city will originate from Fort Lauderdale, Houston, Los Angeles, Miami, Newark, New York City, Orlando, and Tampa.
General Aviation and Charter Flights 
How will this impact current charter flights to Cuba?
Charter flights are expected to continue with up to 110 additional flights being added, which is five times the current number of flights.
Have the restrictions on U.S. citizens visiting Cuba been completely lifted?
No, tourism is technically still banned. Therefore, most Americans cannot visit the island nation unless it's a cultural exchange of some type.
There are 12 approved travel reasons under which U.S. citizens can qualify:
1. Family visits
2. Official business of the U.S. government, foreign governments, and certain intergovernmental organizations
3. Journalistic activity
4. Professional research and meetings
5. Educational activities
6. Religious activities
7. Humanitarian projects
8. Public performances, clinics, workshops, athletics, and other competitions and exhibitions
9. Support for the Cuban people
10. Activities of private foundations, research, or educational institutes
11. Exportation, importation, or transmission of information or information materials
12. Certain export transactions that may be considered for authorization under existing regulations and guidelines
Note:
These 12 reasons apply to commercial, general and charter aviation equally. It is important to remember that tourism in Cuba is still illegal, according to the U.S. government, and the trade embargo is also still in effect. There's a point of contention that has not yet been clarified by any governing body: technically everyone entering the country must fit into one of the 12 approved travel categories. The confusion exists because the crew members may not fit into the any of the categories that the passengers do. No one can give a clear answer on this, and certain operators have chosen not to fly to Cuba if the crew can't meet one of the 12 reasons on their own merit.
Which U.S. airports allow general aviation and charter flights to Cuba?
Currently, these are the approved airports:
KATL, KAUS, KBWI, KORD, KDFW, KFLL, KIAH, KJFK, KLAX, KEYW, KMIA, KMSP, KOAK, KMSY, KMCO, KOBI, KPIT, TJSJ, KRSW, KTPA, KIAD
This list is expected to expand in the future.
Are there any other changes to the requirements for travel to Cuba?
These are the latest changes to the travel requirements as of September 1, 2016:
No OFAC or BIS license is required provided the passengers are authorized travels (see 12 Approved Travel Reasons)
No temporary sojourn license is required
Crew can stay no longer than seven (7) days in Cuba
A handler is required