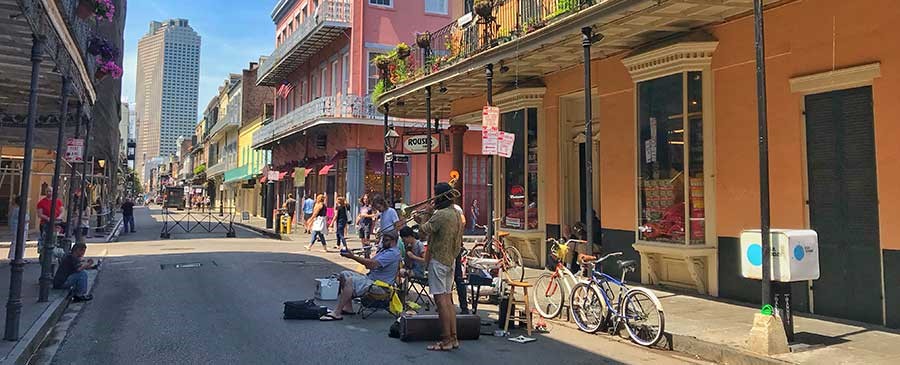 Blog
Flight Ops to New Orleans
Go back to main page
Flight Ops to New Orleans: New Orleans, Louisiana, sometimes called "the big easy" is a town known for its rich culture, history, vibrant nightlife, and dynamic music scene. It's French, American, and African heritage is reflected in its wonderful cuisine… The city is probably most famous for the Mardi Gras carnival that takes place in late Winter. Here's some great operational insight for operators planning flights to New Orleans focusing on its two business aviation gateways, Louis Armstrong and Lakefront Airports.
Louis Armstrong New Orleans International Airport
ICAO: KMSY
IATA: MSY
Coordinates: N29-59.6/W090-15.5
Elevation: 4 FT
Magnetic variation: 01W
Opening hours: H24 – RESTRICTED
Location: 18KM (11 miles) west of downtown New Orleans
Lakefront Airport, New Orleans
ICAO: KNEW
IATA: NEW
Coordinates: N30-02.5/W090-01.7
Elevation: 7 FT.
Magnetic variation: 02E
Opening hours: Airport – 24H / Control tower – 0700-2100 LCL
Location: 4 NM northeast of downtown New Orleans
Operational Information
Landing permit requirements: TSA Waiver may be required depending on the aircraft registration and aircraft size
Both airports have full FBO facilities and will screen and clear crew and passengers.
CIQ is available at both airports
Aircraft parking and hangarage: Check with local handlers on availability.
Security: All airports are secure and require special authorization to get airside access.
Jet fuel(s) available: Yes, at all airports.
ATC Restrictions should be checked before operating
There are no significant NOTAMs to affect operations at this time
In-flight catering is available
Immigration
Visas (Non-EU & EU, passengers, and crew) are required for most all nationalities
A passport is required, all visitors must hold return/onward tickets
All visitors are required to hold proof of sufficient funds to cover their stay
All visitors must produce any documents required for their next destination
The following applies to those traveling under the U.S. Visa Waiver Program:
Each passenger must hold a passport (including biometric Emergency/Temporary passport) and be traveling as a tourist, on business or in transit. Passengers can make side trips to Canada, Mexico or Caribbean countries/islands, provided first entering the U.S. on a carrier participating in the Visa Waiver Program (VWP). There will be no time extension given based on any of these departures.
Visa regulations for Airline Crews:
A D-Visa is valid for entry of aircrew members arriving in the USA on a flight operated by their own company
Such crew members must be listed as "crew" on the arrival manifesto
If an aircrew arrives on a flight of another carrier for the purpose of boarding a flight as a member of the crew, they must have a valid C-1 visa
A Form I-95 must be filled out on arrival
Ground transport
Major rental cars are available or can be arranged at all locations
Car with driver services can be arranged through the FBO or through the UAS Secure Travel services team
Accommodation
All major hotel brands are plentiful and available in this area
There are plenty of boutique hotels available in the French Quarter area as well
For support with your Flight Operations to New Orleans, contact UAS Americas