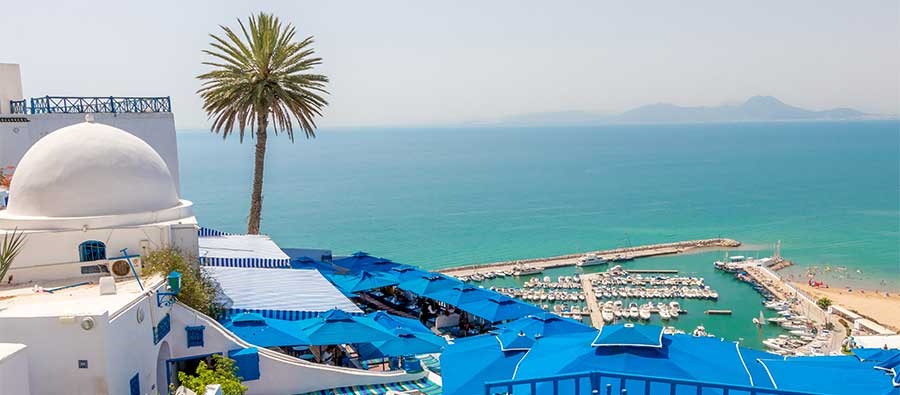 Go back to main page
Flying to Tunisia: Tunisia reopened its borders on June 27 and has created country classifications for those eligible to visit as tourists.
The green list is made up of countries with a low prevalence of the virus so travelers coming from these countries are not subject to any preventative measures and only required to fill out a sanitary form before their trip.
Here are the countries on the green list:
Anguilla
Antigua and Barbuda
Barbados
Bermuda
Bhutan
Bonaire, Saint Eustatius, and Saba
Brunei Darussalam
Burundi
Cambodia
China (including Hong Kong and Macao)
Cyprus
Comoros
Curacao
Dominica
Eritrea
Estonia
Fiji
Finland
Grenada
Greenland
Guernsey
Hungary
Isle of Man
Mauritius
Cayman Islands
Falkland Islands
Northern Mariana Islands
British Virgin Islands
Italy
Jersey
Jordan
Laos
Latvia
Liechtenstein
Malaysia
Mongolia
Montserrat
Myanmar
Norway
New Caledonia
New Zealand
Central African Republic
Republic of Korea
Tanzania
San Marino
Saint Kitts and Nevis
St. Lucia
Holy See
Saint Vincent and the Grenadines
Sao Tome and Principe
Seychelles
Sri Lanka
Thailand
Timor Leste
Vietnam
The second list – the orange list – contains countries with medium prevalence of the virus. 
People coming from these countries must present a negative PCR test performed less than 72 hours before departure.
They also face a mandatory 7-day home or hotel quarantine which ends when the traveler undergos a PCR test and has a negative result.
Here are the countries on the orange list:
Andorra
Austria
Azerbaijan
Belarus
Benign
Bulgaria
Burkina Faso
Cameroon
Canada
Chad
Croatia
Cuba
Czechia
Denmark
Djibouti
Egypt
France
Georgia
Germany
Greece
Guyana
Haiti
Iceland
Ireland
Ivory Coast
Jamaica
Liberia
Lithuania
Luxembourg
Mauritania
Monaco
Nepal
Netherlands
Nicaragua
Niger
Poland
Portugal
Senegal
Sierra Leone
Slovakia
Slovenia
Sweden
Switzerland
Tajikistan
Togo
Turkey
Uganda
United Arab Emirates
United Kingdom
Uruguay
Travelers from countries not on either list can only enter with special permission as essential travelers, not as tourists.
There are strict rules for entering as an essential traveler, including a 14-day quarantine at a government centre and multiple PCR tests.
For support with your flight operations to Tunisia, contact UAS