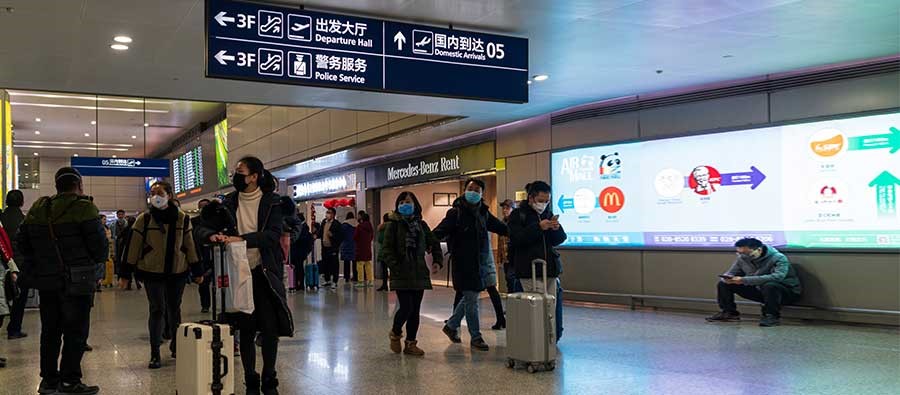 Blog
Global Travel Restrictions due to Coronavirus Outbreak
Go back to main page
Global Travel Restrictions due to Coronavirus Outbreak: The World Health Organization (WHO) has declared a global health emergency as the coronavirus cases have now confirmed in 22 countries.
Airlines and authorities around the world have responded.
A growing list including British Airways, Finnair, and Lufthansa, have suspended all flights to and from China, foreign governments including the US and the UK have issued travel warnings, and China itself has banned its citizens from booking overseas flights.
Several foreign governments are now evacuating their citizens from Wuhan.
Almost all major Chinese airports are now testing passengers and crew temperatures upon arrival and before departure.
The city of Wuhan is on lockdown, and the airport (ZHHH) is effectively now closed until further notice.
According to local handlers in China, most other major airports in the country are operating as usual, and most of the hotels are still available and operating – with many international chains waiving cancellation fees for travelers in affected regions.
Around the world, screening measures in place at a seemingly endless list of major overseas airports.
Several countries have implemented additional restrictions, and in some cases, outright bans on flights from China.
Hong Kong (VHHH)
All passengers and crew arriving from any airport in mainland China must complete a health declaration form and submit to the authorities upon arrival.
Macau (VMMC)
All visitors are required to complete a health declaration form, a copy of which will be provided on arrival.
Immigration officers will carry out body temperature readings and if a traveler registers less than 37.5°C they will gain admittance.
Singapore (WSSS and WSSL)
Singapore also ramped up precautionary measures and have prohibited all visitors (both passengers and crew) with recent travel history to mainland China in the past two weeks from entering or transiting Singapore.
Japan
Foreigners who have traveled to Hubei Province in China within 14 days and foreigners who have Chinese passports issued by Hubei Province are prohibited from entering Japan.
Israel
The Health Ministry said it will not allow flights from China to land at its airports and the country's flag carrier has suspended flights to Beijing until March 25.
Italy
Italy has now published a NOTAM banning all flights coming to Italy from airports in China, Taipei, Hong Kong or Macau. Overflights are not affected.
A0647/20 (Issued for LIBB LIMM LIRR) – UPON REQUEST OF THE ITALIAN HEALTH AUTHORITIES ALL FLIGHTS TO/FM PEOPLE'S REPUBLIC OF CHINA (PRC) INCLUDING THE HONG KONG, MACAO SPECIAL ADMINISTRATIVE REGIONS AND TAIPEI ARE FORBIDDEN RMK: TFC NOT AFFECTED: OVERFLY, STATE/MEDEVAC/HOSP/HUM AND SPECIFIC ACFT AUTHORIZED BY ITALIAN CIVIL AVIATION AUTHORITY (ENAC) REQUESTS SHALL BE ADDRESSED TO SCHEDULED.PERMITS(AT)ENAC.GOV.IT REF AIP GEN 1.2-23. 02 FEB 00:00 2020 UNTIL 28 APR 23:59 2020 ESTIMATED. CREATED: 31 JAN 19:00 2020
Germany
All operators to Germany from anywhere in China, Hong Kong or Macau must submit the health part of the Gendec to the authorities at the first airport you land at in Germany.
All travelers must also complete a copy of the ICAO health declaration. O
Operators must keep all passenger data (names, contacts, where they sat on the plane) for at least 30 days.
Iran
Iranian officials have announced the suspension of all flights to and from mainland China until further notice.
The bottom line is to avoid all nonessential travel to China until the outbreak is brought under control.
For the latest trip support information and advice, contact UAS China.