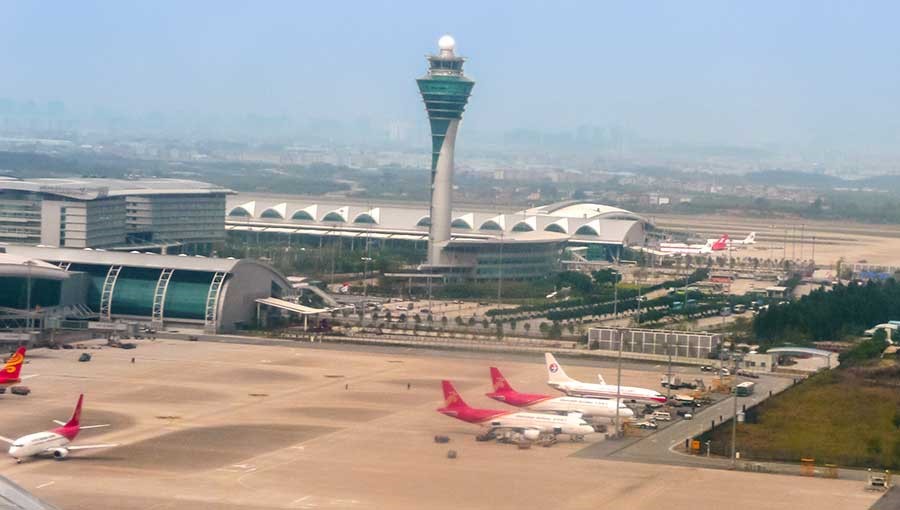 Blog
Guangzhou Baiyun International Airport ZGGG
Go back to main page
Guangzhou Baiyun International Airport 
| | | | | |
| --- | --- | --- | --- | --- |
| City: | Guangzhou | | Country: | China |
| ICAO: | ZGGG | | IATA: | CAN |
| Time zone: | +8 UTC | | Latitude/longitude: | N23°23.6′ E113°18.5′ |
| Elevation: | 15m | | Mar Var: | 2° W /- |
| Operations: | 24H | | AOE: | Yes |
| Runway length: | 3800m and 3600m | | Airport type: | 4F |
| PPR: | Not required | | Runway type: | Concrete |
| Runways: | 3 | | Fuel types: | Jet A1  |
| FBO: | Not available | | ATC hours: | 24H |
| Tower frequency: | 118.1(124.3) RWY 02R/20L 118.8(124.3) RWY02L/20R | | Aircraft Parking bays:  | 173 |
| Navaid: | IFR/VFR | | Fire category:  | CAT9 |
Languages: Mandarin and English
Passenger movements: 55 million+ passengers a year
Lead times for permit approval
3 working days for private jets
15 working days for charter flights
Guangzhou airport restrictions
No take-off or landing allowed during 2300Z TO 0100Z and from 0100Z to 1400Z (only one take-off or landing allowed for private / charter jets)
PCN
East apron
PCN 109/R/B/W/T:stands Nr.106, 117;
PCN 98/R/B/W/T:stands Nr.101-105, 107-116, 118-130, 140, 306-308, GY11-G12;
PCN 79/R/B/W/T:stands Nr.131-133, 135-139, 301-305, GY07-GY10;
West apron
PCN 98/R/B/W/T:stands Nr.206, 207, 218-220, 230, 231, 240, GY01-GY02, Cargo apron;
PCN 85/R/B/W/T:stands Nr.401-410;
PCN 79/R/B/W/T:stands Nr.201-205, 208-217, 221-229, 232-239;
PCN 75/R/B/W/T:stands Nr.420-423;
PCN 70/R/B/W/T:stands Nr.GY03-GY06
Maintenance apron
PCN 51/R/B/W/T:stands Nr.411-419, 424-429, 413A, 416A, 419A.
Parking facilities: Available
Catering: Available
Crew facilities: Available
Security guards: Available
Cargo capacity
Platform lift(30 tons), forklift(7 tons), baggage transporter, cargo tow tractor, freight processing system (1.5 tons) and container bulk cargo processing system (13.6 tons).
MRO and hangars
Line maintenance and engine changes available for various types of aircraft on request
Spare parts and other maintenance work available through prior arrangement
Circuits maintenance is available
Hangar Nr.10 is divided into maintenance area and painting area
Maintenance area can accommodate one wide body aircraft (A380), two wide-body aircraft (B747) and two narrow-body aircraft (B757,B737,A320), or one wide-body aircraft(A380), nine narrow-body aircraft (B757,B737, A320)
The painting area can accommodate one wide-body aircraft (A380), two narrow-body aircraft (one B757and one B737, by nose to tail arrangement)
Hangar Nr.11 can accommodate eight narrow-body aircraft(A320/A321-200/B737/B757)
Customs and Immigration
For international flights, crew and passenger will clear immigration through the main terminal at arrival and departure. For domestic flights, they will go through FBO for arrival and departure.
Visas are required for crew members
A General Declaration is required
Customs operates 24H
Immigration
Citizens of Japan, Singapore, and Brunei holding a regular passport are able to grant a visa-free stay in China for up to 15 days. Other citizens should hold valid Chinese visa before entry.
The following passengers may get such punishments as being denied boarding or entry or being fined, etc.:
Those arriving before a visa is completed (those with waivers are exempt)
Those arriving with an expired visa
Those staying with the visa exceeding the staying period
Them whose passport expires during their stay in China (Regardless of their visa)
Additional notes: APEC card holders are allowed to enter China without a visa.
Customs
Luggage and goods carried by inbound and outbound passengers should be for personal use only and in a reasonable quantity and should be declared as actual personal items to the Customs and subjected to inspection by the Customs officials.
The duty-paid value of inbound and outbound goods is determined by the Customs officers according to the law.
Short-term passengers (those approved to stay in or outside China for not more than one year) may carry the following goods into or out of China, subject to the following restrictions:
| | | |
| --- | --- | --- |
| Category 1 | Category 2 | Category 3 |
| Clothing, shoes, hats, objects of art, and other personal effects worth not more than RMB 1,000. | Tobacco products and alcoholic beverages. | Personal effects worth more than RMB 1,000 but not more than RMB 5,000. |
Goods in Category I should be for personal use only and in a reasonable quantity.
An inbound passenger may carry 400 cigarettes, 100 cigars or 500 grams of tobacco and two bottles of alcoholic beverage (of higher than 12 percent alcohol and less than 1.5 liters) free of duty.
An inbound passenger with Category III goods will be subject to customs duties.
China Customs e-brochure provides distinct guidelines on all customs regulations and clearance procedures. See http://english.customs.gov.cn/Legislation/Laws
Airport details
Baiyun, Guangzhou, Guangdong, China
Tel: +86 20 3606 6999
Website: 

http://www.guangzhouairportonline.com/ 
Important Numbers
Emergency: 120
Police: 110
Fire:119
Airport authority: 86-20-86123706
Customs: 86-20-81101991
Weather
Guangzhou enjoys a humid subtropical climate zone. It gets lots of sunshine and rainfall. Summers are long and humid, winters are short and mild.
Security brief
There are generally no security concerns, however, it is always recommended to check with your trip support advisor before travel.
Ground transport
Nine shuttle bus lines are available linking the airport and the downtown area 24/7
Taxis are available outside the main terminal 24/7
Six public bus lines are also available
Land distances from airport
Guangzhou Train Station is about a 30-minute drive (29km)
Hong Kong is approximately 2 hours and 20 minutes away (194km)
Pazhou Complex is a 42-minute drive (42km)
Accommodation
Pullman Guangzhou Baiyun Airport Hotel
Note: This list is for informational purposes only and based on proximity. UAS does not promote any specific establishments.  
Tourists attractions
Chen Ancestral Shrine
Yuexiu Park
White Cloud Mountain
Guangzhou Opera House
Bright Filial Piet Temple