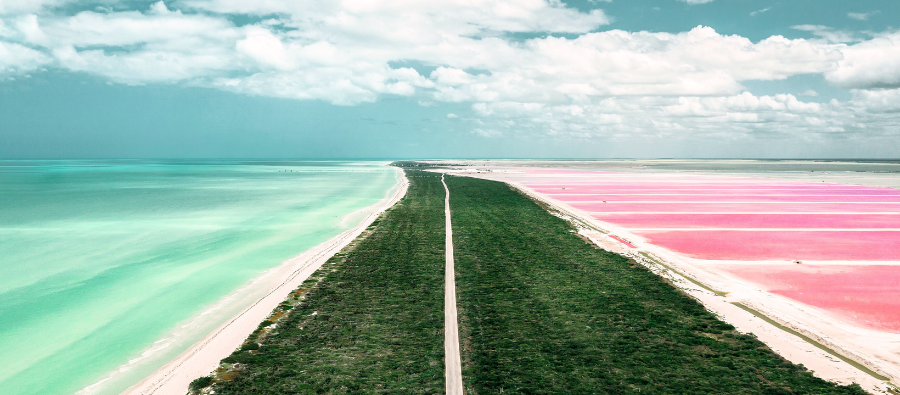 Blog
Hidden Gems: Las Coloradas  
Go back to main page
Hidden Gems: Las Coloradas Mexico – With its vibrant hot pink waters, powder sand, and vivid blue skies, Las Coloradas Mexico is an obvious addition to our Hidden Gems destination list.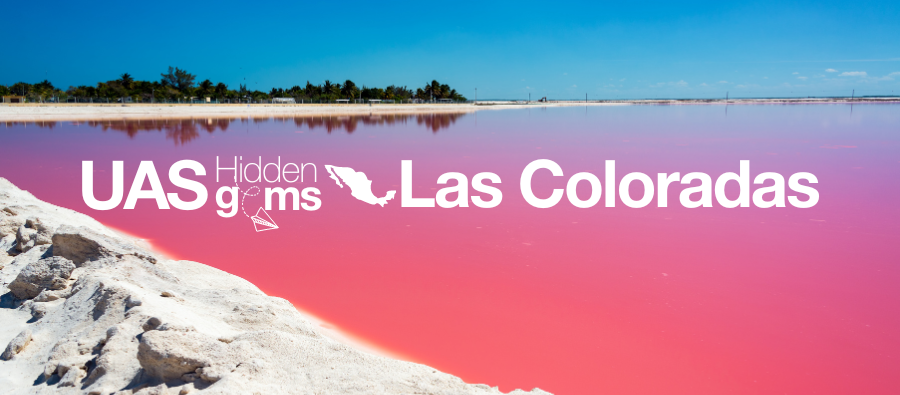 The stunning pink lakes of Las Coloradas in Yucatan, Mexico are a mesmerizing sight, attracting visitors from all over the world. A wildlife enthusiasts paradise renowned for its biodiversity, the area surrounding Las Coloradas is part of a protected wetlands area called the Rio Lagartos Biosphere Reserve that is famous for its exotic animals, including colonies of flamingos, crocodiles, jaguars, turtles and birds. The area is also used for large-scale salt production with massive evaporation ponds extracting sea salt. The vivid pink colour is the result of this natural process taking place under the Mexican sun: As only certain microorganisms like red algae, brine shrimp, and pink-coloured algae can survive in such a saline environment, when the water evaporates, the microorganisms become highly concentrated creating the beautiful, bright pink colour. This salt production has been the main industry in the area for over 2,000 years, since the time of the ancient Mayans.  
The flamingos at Las Coloradas would be white if they did not feed off the algae that also create the vivid pink hues of the waters 

The Location 
Las Coloradas is part of a small fishing community in the Yucatán, Mexico, located at the northern coast of the Yucatan Peninsula which separates the Gulf of Mexico from the Caribbean Sea. Las Colorados is roughly a 250-km drive from both Merida and Cancun. Visitors can choose to drive themselves or travel by bus or shuttle with one of many local tour groups.  
The people 
The population of the area around Las Colorados is approximately 1,000 and you can expect a wonderfully warm welcome from those you meet here.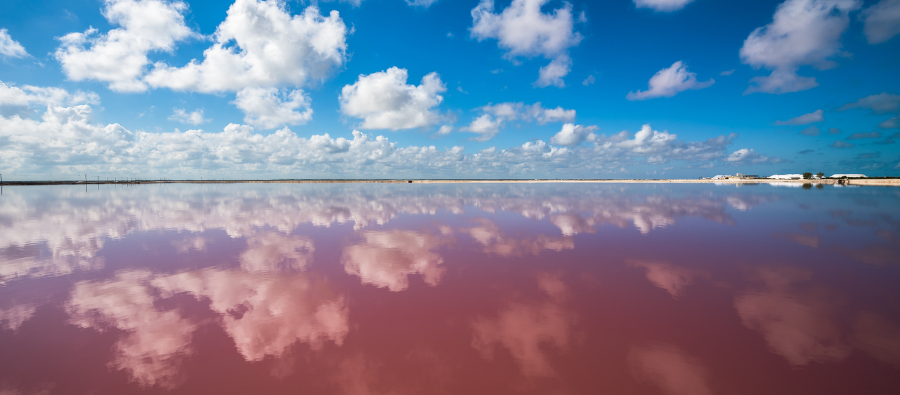 Tourism   
Mexico is considered one of the most visited countries in the world by the World Tourism Organization. In Yucatan, tourists are well catered for. Indeed, the entire peninsula is renowned for its many different Mayan archaeological sites which attract huge amounts of visitors annually. At Las Coloradas, a visitor center opened in 2021 with accommodation also available.  
Las Coloradas is perfect for those chasing breathtaking and unusual sights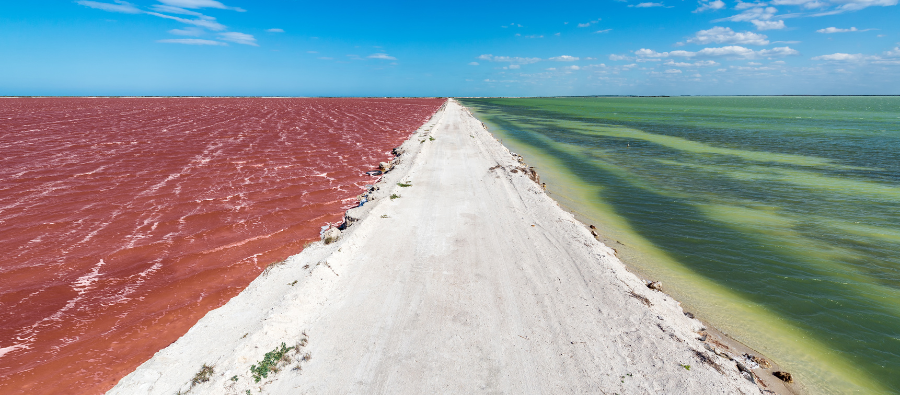 Best time to visit Las Coloradas 
Las Coloradas has a semi-arid climate meaning it is hot all year round. When visiting the lakes, try to go at midday as it is the time when the color is the most vibrant. The lower the sun gets, the less visible the colour becomes.  
Flying private to Mexico
Chartering a private jet for your trip to Las Coloradas will guarantee a seamless and stress-free experience. Customize your trip to your exact requirements and tailor your itinerary to reflect your personal preferences. You can be ready to visit in as little as eight hours.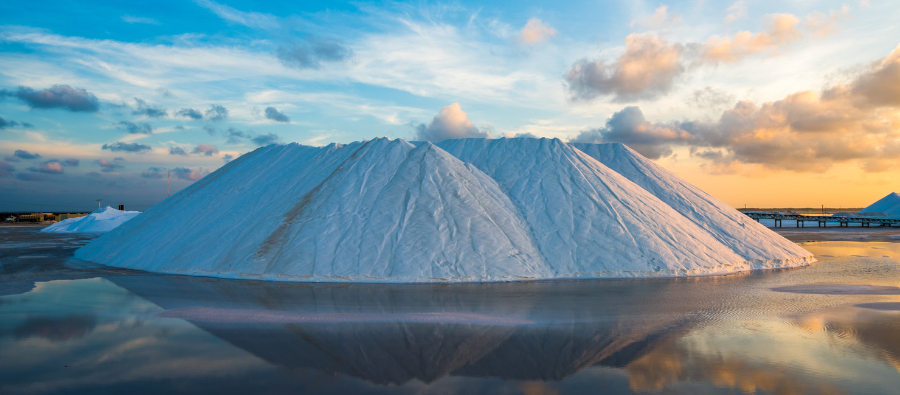 Entry airport
Aeropuerto Internacional Manuel Crescencio Rejón
Formally Merida International Airport, this is the main gateway to the capital of the state of Yucatán, and the largest city in southeastern Mexico. 
IATA code:

 MMMD

 

ICAO code:

 MID

 

Coordinates:

 205613.28N 0893927.70W

 

Elevation:

 11 M (36 FT)

 

Fuel:

GASAVION 100LL / TURBOSINA JET A

 
Operational information    
Required permits d

epend on the type of aircraft and type of flight

 

Lead times for permit approval is approximately eight hours

 

Parking is available

 
Commerical flights 
Direct flights to Merida are available from the U.S., Guatemala, Cuba, Argentina, and Canada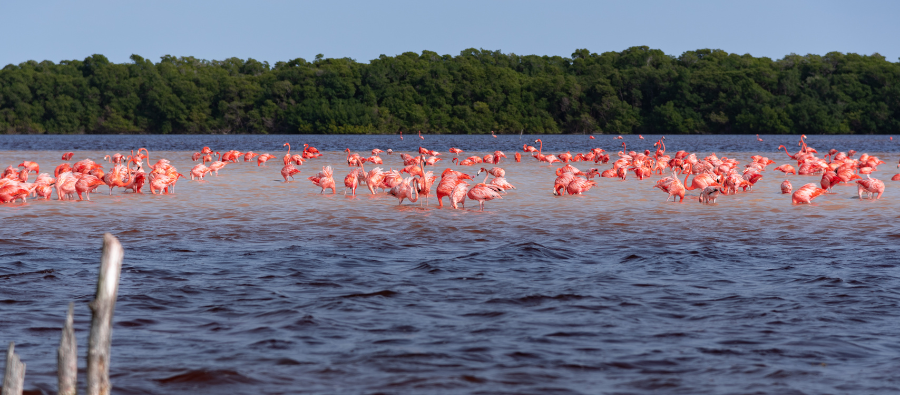 Immigration 
Regardless of visa status, every visitor to Mexico must obtain a government tourist permit called a Forma migratoria múltiple (FMM). This can be obtained on arrival or online

here

 

Mexico offers tourist visa exemptions to 68 nationalities including U.S., Canada, EU countries, Argentina, Australia, Brazil, Israel, Japan, New Zealand, Norway and Switzerland 

Tourist visas are not required for any nationality holding a valid visa or permanent residence from the United States, Canada, United Kingdom, Schengen or Japan

 

Citizens of China, India, and Russia are among 131 nationalities that require a Mexican tourist visa

Mexico tourist visas are valid for six months and are generally multiple entry

 

Passports must have more than six months' validity and tourist visits must not exceed 180 days

 
Health screening   
There are no vaccination or PCR requirements for visitors to Mexico.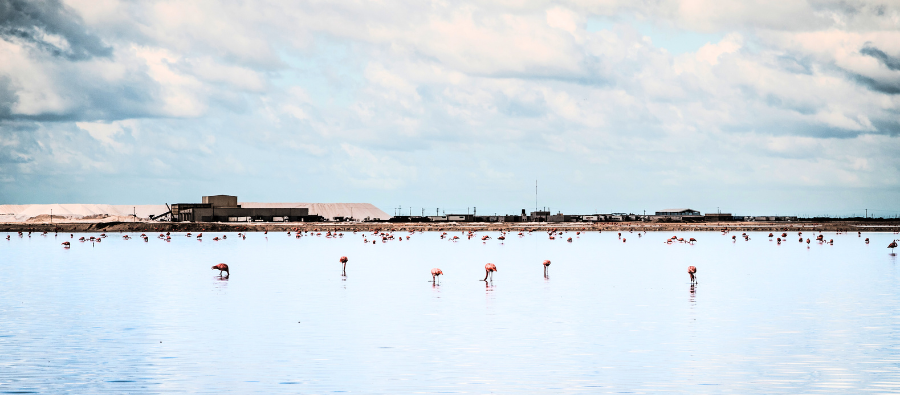 Visitor tips  
It's not possible to access the lakes unaccompanied, you can only visit as part of a guided tour

 

The tour costs approximately 400 Mexican pesos

 

Visitors are not allowed to touch or enter the water

 

Although you are welcome to take photos at the pink lakes, drones are forbidden

 
To create your ultimate Las Coloradas Mexico travel experience, contact UAS Charter or UAS Executive Travel. 
For more Hidden Gems, visit the UAS Blog