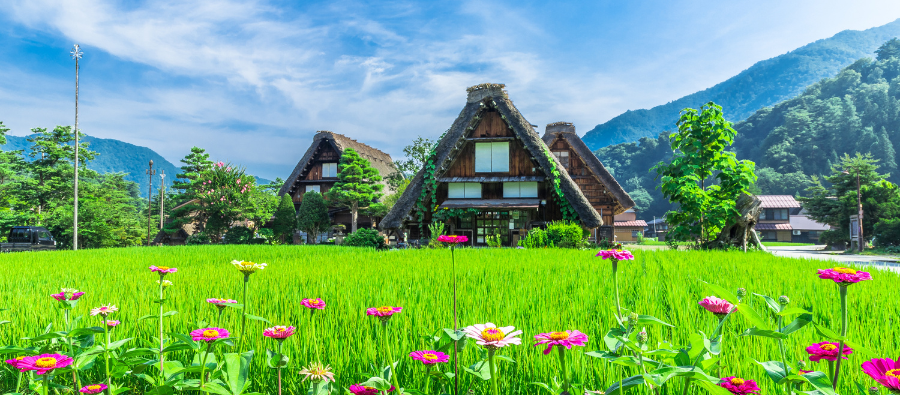 Blog
Hidden Gems: Shirakawa-go  
Go back to main page
Hidden Gems: Shirakawa-go – With its picturesque mountain backdrop, traditional houses, and magical atmosphere, Shirakawa-go is a welcome addition to our Hidden Gems destination list.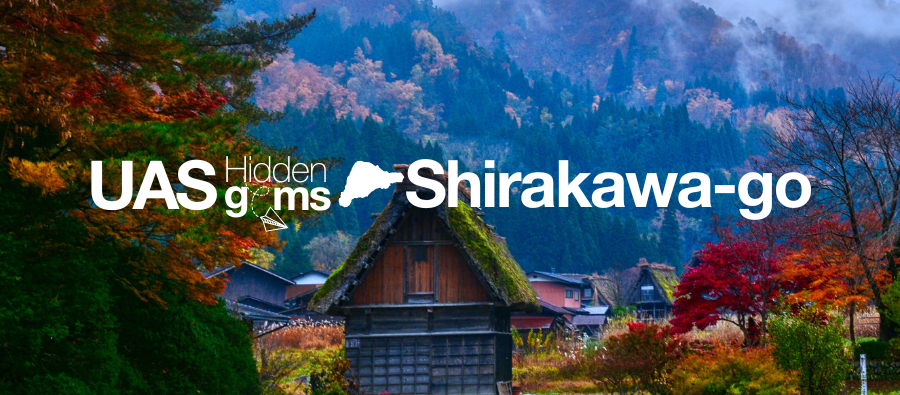 Nestled in a remote valley and flanked by the mountains of Gifu, Shirakawa-go meaning "White River Old-District" contains verdurous mountainous forests and alpine villages combined with the allure of Japan's ancient and mystical culture. The region is famous for its traditional gassho-zukuri farmhouses, some of which are more than 250 years old. Located in the heart of Japan's most mountainous region, the area experiences some of Japan's heaviest snowfall. This architectural style was developed to withstand large amounts of heavy snowfall, which averages at about 10 meters each year, leading to Shirakawa-go to often be described as an "isolated island" when it becomes snowed in.  
Gassho-zukuri means "constructed like hands in prayer", as the steep thatched roofs of the houses resemble the hands of a Buddhist monks pressed together in prayer.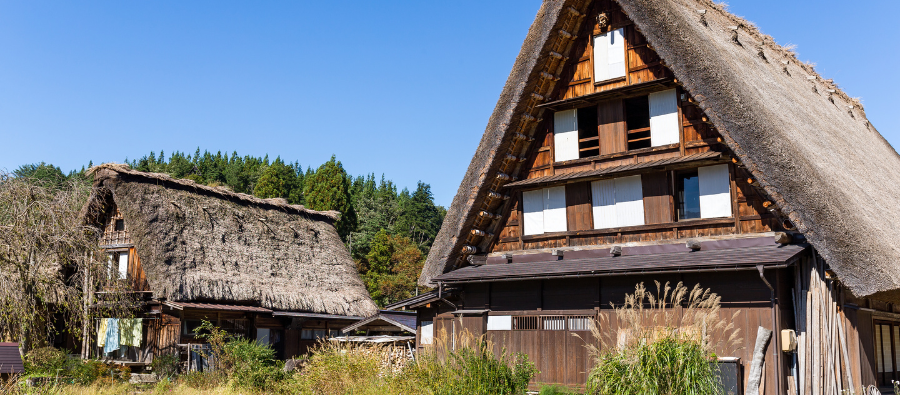 The location 
Shirakawa-go is located on the banks of Shogawa River Valley in the remote mountains that span northern part of Gifu Prefecture in Honshu, central Japan.  
The people
Shirakawa-go's population amounts to 1,600 residents who continue to live a traditional way of life. Guided by a strong and ancient philosophy, they are incredibly resilient and serene.  
The climate  
Temperatures range from 28°C in August to 3°C in January.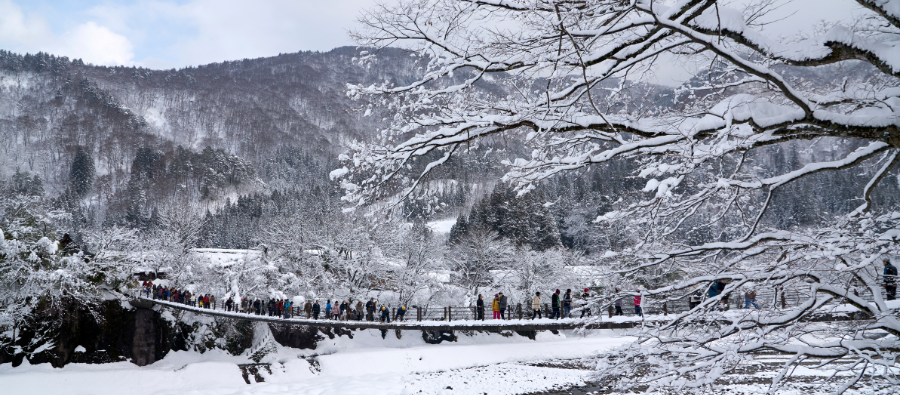 Tourism   
Shirakawa-go is the most visited tourist destination in central Japan, particularly since it was declared a UNESCO World Heritage site in 1995. To accommodate visitors, there are over 40 traditional gassho-style guesthouses where you can enjoy the simple practicality of ancient Japanese life. For local accommodation, click here. 
What to see in Shirakawa-go 
Ogimachi Village

 

Shiroyama Observation Deck

 

Deai-bashi Bridge

 

Shirakawa Hachiman Shinto Shrine

 

Kanda House

 
Best time to visit Shirakawa-go 
Tourists visit Shirakawa-go all year round. In spring (March to May) you will see cherry blossoms and rice paddies. In the summertime it is green, the autumn is a crescendo of yellows and auburns, and the winter snows create a magical and idyllic setting.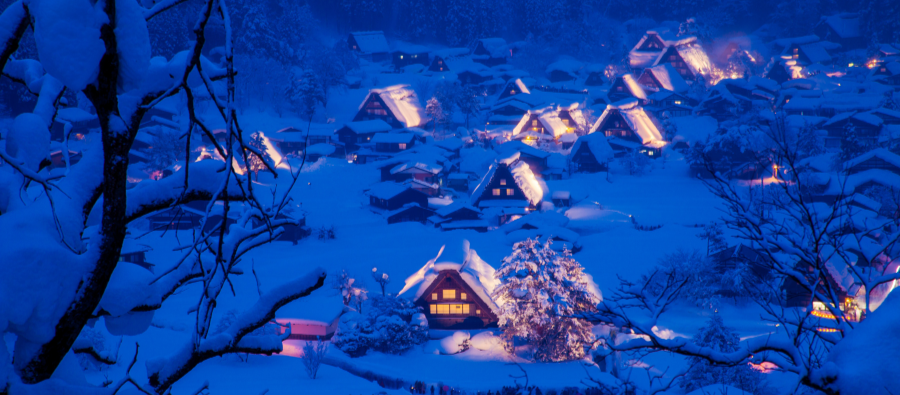 What makes Shirakawa-go unique 
Even during a short visit to Shirakawa, it is easy to forget the rest of the world exists. It is like taking a step back in time to the ancient and mystical Japan of a bygone era.  
Flying private to Shirakawa-go  
There are many airports that can accommodate private flights surrounding this region of Japan. Chartering a private jet for your trip to Shirakawa-go will enable you to customize your itinerary to your exact requirements and enjoy a truly memorable experience.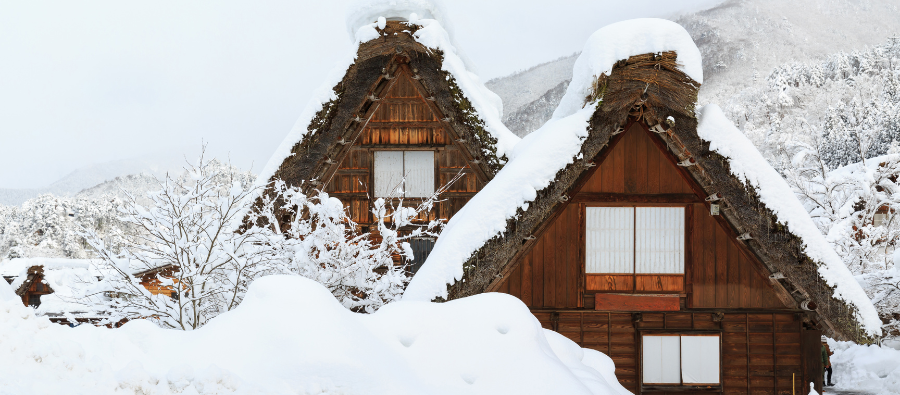 Entry airports 
Toyama Kitokito Airport  
IATA: TOY

 

ICAO: RJNT

 

Coordinates: N36°38.38′ / E137°11.09′

 
Operations information  
Toyama is the closest airport to Shirakawa-go, approximately a 90-minute drive 

 

This airport handles a lot of charter flights

 

This is an airport of entry, to secure a parking spot, coordinate at least seven working days before the arrival date 

 

Parking is only possible for 90 minutes

 

After dropping off passengers, the aircraft needs to go to RJGG or another airport for overnight parking 

 

FBO available 

 

Jet fuel is available 

 

Business Jet aircraft from 2230z to 1000Z only

 
Visit the official airport website here.    
Nagoya Airfield  
IATA: NKM

 

ICAO: RJNA

 

Coordinates: 35.25545 136.92440

 
Operations information  
Nagoya is approximately a 150-minute drive to Shirakawa-go 

 

This is an airport of entry, to secure a parking spot, coordinate at least three working days before the arrival date 

 

This airport can't accept aircraft larger than BBJ or ACJ aircraft – business jets should be under GLF6 size 

 

Jet fuel is available

 

Operating hours from 2200z to 1300Z only

 

The airport primarily services domestic flights and international flights to China and Taiwan

 
Visit the official airport website here.  
Chubu Centrair International Airport 
IATA: NGO

 

ICAO: RJGG 

 

Coordinates: Lat: 34° 51′ 30.23″ N Lon: 136° 48′ 17.97″  

 
Operations information 
Chubu Centrair International Airport is approximately a 170-minute drive from Shirakawa-go

 

This is an airport of entry, to secure a parking spot, coordinate at least one working day before the arrival date

 

Jet fuel is available

 

Operating hours 24/7 

 
Commercial flights 
There are two internal flight routes from Tokyo's Haneda Airport that will take you close to Shirakawa-go; Haneda to Toyama Airport and Haneda to Komatsu Airport. The remainder of your journey will be by bus or car.  
Toyama Kitokito Airport has domestic flights to/from Tokyo and Sapporo as well as international flights to/from Seoul, Shanghai, and Taipei.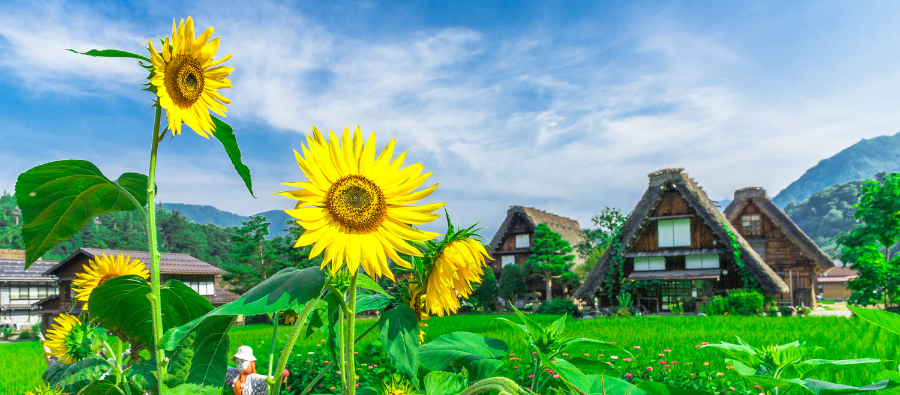 Immigration  
E-visas for short-term stays not exceeding 90 days are available to all citizens of the following countries: Brazil, Cambodia, Canada, Mongolia, Saudi Arabia, Singapore, South Africa, Taiwan, United Arab Emirates, United Kingdom and United States of America

 

Japan has visa exemption arrangements for 69 countries. Click here to find out more

 
Health screening   
There is no vaccination requirement to enter Japan

 

Visitors do not need to carry proof or pre-departure testing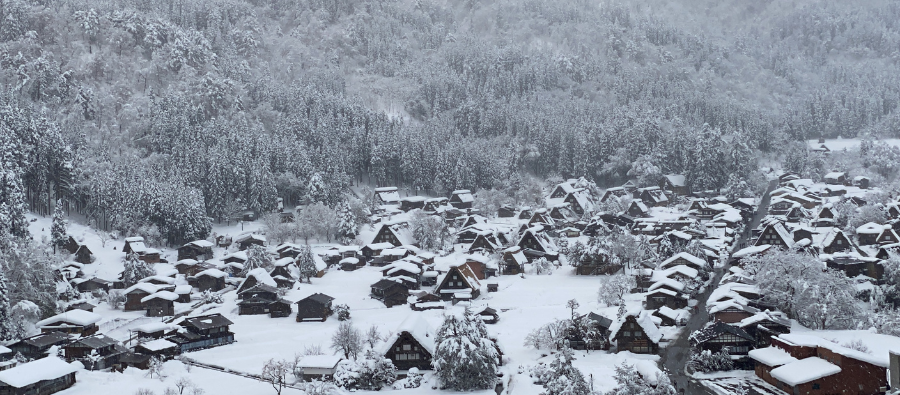 Visitor tips  
The villages are only reachable by bus or by car 

 

To reach Shirakawa-go it takes approximately 1.5 hours by bus from Kanazawa and Toyama and about 3 hours from Nagoya

 

Many villagers don't speak anything other than Japanese, but they are friendly and happy to see tourists

 
To create your ultimate Shirakawa-go travel experience, contact UAS Charter or UAS Executive Travel. 
For more Hidden Gems, visit the UAS Blog