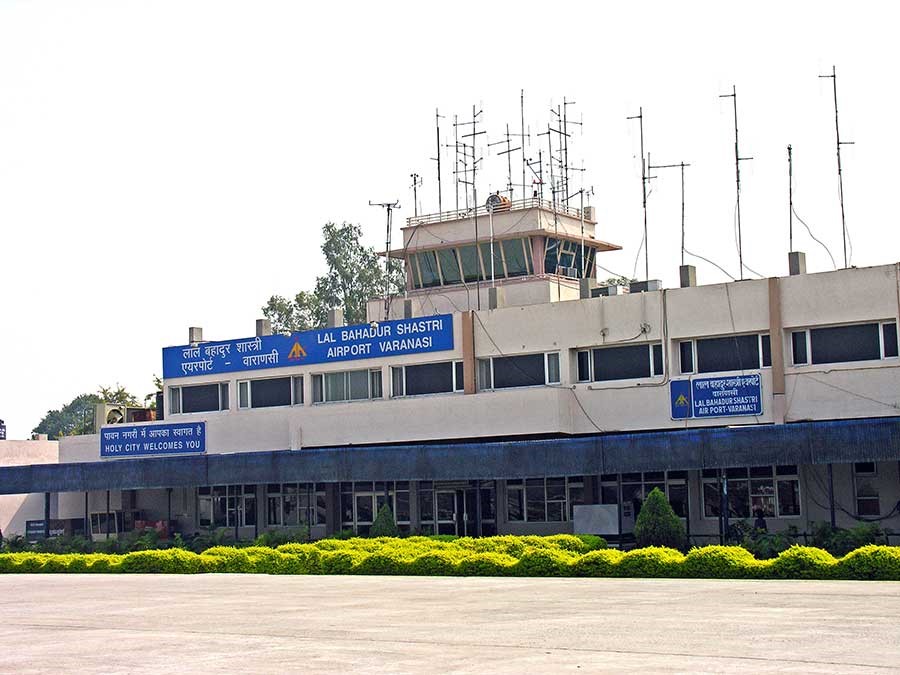 Blog
Lal Bahadur Shastri International (Varanasi Airport) VEBN
Go back to main page
Lal Bahadur Shastri International (Varanasi Airport) is located 26km from Varanasi in Uttar Pradesh, India. It is formerly known as Varanasi Airport before the name-change in 2005. 
| | | | | |
| --- | --- | --- | --- | --- |
| City: | Varanasi  | | Country: |  India |
| ICAO: | VEBN | | IATA: |  VNS  |
| Ground frequency: | 120.75 & 132.4 MHZ  | | Latitude/longitude: | 252705N 0825131E |
| Elevation: | 266 FT | | Mar Var: | 0.50°W (1985) |
| Time zone: | + 5.30 UTC  | | AOE: | Yes  |
| Tower frequency: | 118.1 MHZ  | | Airport type: | AAI controlled |
| PPR: | Yes | | Airport slots: | Yes |
Languages spoken at Varanasi Airport: Hindi and English
Navaid available: NDB, DME (VOR), DVOR 24 HOURS / LLZ27, GP 27, DME (ILS)… ATS
Airport operating hours: 0300 – 1530 UTC
Lead time for landing approvals
Operating from Non-PRC: Technical Landing: 1 working day. Load change: 3 working days
Operating from PRC: Technical Landing: 3 working days. Load change: 7 working days
On the Ground
PCN: 68/F/C/W/T Tarmacadam
Runway length: 2745 X 45 M
Types of aircraft handled: A320, A321, B767
Fire category: CAT 7
FBO: There is no FBO at Varanasi Airport
ATC hours: 24 hours
Operating restrictions: Slot approval is required from VEBN APD office
Fuel type: Jet A1
Ramp facilities: GH equipment, transport, and first aid/emergency services are available.
Maintainance and hangars: These are limited and only available through a commercial airliner.
Catering: Options are extremely limited. It's advised to organise catering through a local hotel.
Passenger facilities: There is no GA terminal. An agent is required to provide baggage assistance and assist guests with security clearance.
Parking facilities: Due to limited parking, pre-approval from APD office is required for all flight operations. The aircraft should carry a tow bar on board.
Crew facilities: There is no GA terminal. Like for passengers, an agent is required to provide baggage assistance and guide crew through security and ATC clearance.
Airport security: CCTV and CISF.
Customs and Immigration
Customs and Immigration are available at Varanasi Airport.
Crew: Crew should have visas prior to arrival at VEBN. Temporary visas on arrival on the discretion of the Immigration officer and can be cconsideredonly after due verification of travel documents and trip purpose.
Passengers: All passengers require a valid passport and Indian visa.
Customs: Please visit – http://www.cbec.gov.in/resources//htdocs-cbec/guide_for_travellers/trvler-guide_ason05feb2015.pdf
Alternatives to Varanasi Airport: VILK, VEPT, VECC
Contact Numbers:
Emergency: (0542)2622081-090
Police: 100, (0542) 2414150, 2419483
Fire: +91 (0542)2622081-090 , (0542)2622081-090
Customs terminal manager: +91-542-2623060
Airport authority: +91 (0542) 2622155 , 2622320 , 9415223071
ATC tower: +91 (0542) 2622091
NOTAMs: Coordinate with VEBN ATC prior to flight operation
Driving distance: The city is approximately 22km from the airport (About 50 minutes driving time).
Security: Guests are advised to follow their planned schedule with a pre-appointed guide, use hotel transport, and avoid night travel, strangers, and wearing expensive items.
Tourist Information 
Weather:
Varanasi has a humid subtropical climate with temperatures varying widely between summer and winter. Summer lasts from early April to October with temperatures ranging from 32°C to 45°C. Heavy rain and humidity characterise the monsoon season between June and July. During winter (December-March), the weather in Varanasi can get extremely cold, with temperatures as low as 5°C at night time. It's worth noting that the continuing humidity can produce a lot of fog during these months.
Tourist attractions:
Religious edifices:
New Vishwanath Temple
Kathwala Temple
Kashi Vishwanath Temple
Monkey Temple
Popular river banks:
Daswamedh Ghat
Assi Ghat
Shivala Ghat
Tulsi Ghat
Darbhanga Ghat
Ahilyabai Ghat
Causatthi Ghat
Historical sites:
Gyan Wapi Well
Bharat Kala Bhavan Museum
Ramnagar Fort
Accommodation close to Varanasi Airport:
Hotel Ramada Plaza
Hotel Taj Nadesar Palace
Hotel Rivatas by Ideal
Hotel Radisson
Hotel Clarks
Note: This list is for informational purposes only and based on proximity. UAS does not promote any specific establishments.
Dining: Authentic local dishes and a broad range of international cuisine are available in hotels.
For assistance with your operation to Varanasi Airport, or another location in India, contact  india@uas.aero