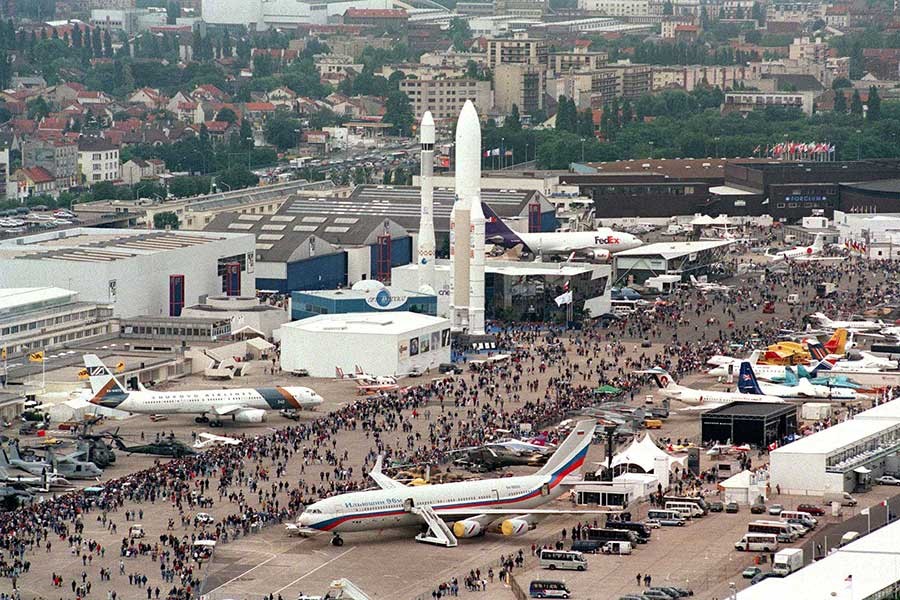 Blog
Operations to Paris Le Bourget and Charles de Gaulle
Go back to main page
Operations to Paris Le Bourget and Charles de Gaulle: The 2017 Paris Air Show will take place from June 19-25 at Le Bourget Airport. Here's all you need to plan a successful mission to Paris this June. 
Le Bourget 
IATA: LBG
ICAO: LFPB
N 48° 58.2′ E 02° 26.5′
Mag Var: 2.0°W
Elevation: 220′
Fuel: Jet, Jet A-1
Time Zone Info: GMT+1:00 uses DST
Operational Information
Accreditation and PPR (prior permission required) are mandatory for all aircraft arriving at LFPB airport during the air show period, regardless of participation. The accreditation number must be mentioned in item 18 when filing a flight plan for any operation between June 19-25.
The accreditation form must be completed before the deadline of June 12 (1 accreditation per aircraft and per crew member), special documents are required for accreditation, UAS can assist with the applications.
Note: For the duration of the show the airport will have daily closures (for demo flights), during this period no landing and takeoff is allowed. This may cause delays.
Airport closure will be updated every day by NOTAM
There is a parking restriction on the airport demo zone
There is no restriction on all other parking
UAS Fuel Service JETA1 available at all aprons
Airport Authorities will publish NOTAMs closer to the air show
Charles de Gaulle
IATA: CDG
ICAO: LFPG
N 49° 00.6′ E 02° 32.9′
Mag Var: 2.0°W
Elevation: 392′
Fuel: Jet A-1, Jet 4
Time Zone Info: GMT+1:00 uses DST
Operational Information 
Airport slots are required for private flights
Non-scheduled flights require a landing permit and airport slot
All permits and slots should be requested at least three days prior planned arrival
UAS Fuel Service JETA1 available
Paris Air Show Location
Parc des Expositions Paris-le Bourget, Aéroport Paris-le Bourget is located just ten minutes from Paris, around 15 minutes from Paris Charles de Gaulle International Airport and beside Paris Le Bourget Business Airport.
Accommodation
Hotels near Le Bourget:
Park and Suites Elegance Le Bourget
Aéro Hôtel
Mercure Paris Le Bourget
AC Hotel Paris Le Bourget Airport by Marriott
Kyriad Prestige Le Bourget Aéroport
Hotels near Charles de Gaulle:
Sheraton Paris Airport Hotel & Conference Centre
Novotel Paris CDG Terminal
citizenM Paris Charles de Gaulle
Hilton Paris Charles de Gaulle Airport
Mercure Paris Charles de Gaulle Airport
Transport
Train
If you're traveling from the city it is best to park your car at the Regional Express Railway station. Take the RER line B which will drop you off at the railway station "Le Bourget". From there, a shuttle bus (Bus 152) will then bring you to the exhibition center.
Car
It's advised to use the Paris Nord Villepinte Exhibition Center carpark as it's highly likely that the carparks at Le Bourget will fill quickly.
Shuttle buses
The International Paris Air Show provides visitors and exhibitors with free shuttles to and from the show (with the exemption of Porte Maillot which is one way only).
For more information, visit https://www.siae.fr/
For support and assistance with your operations to Paris Le Bourget and Charles de Gaulle, contact dxb@uas.aero