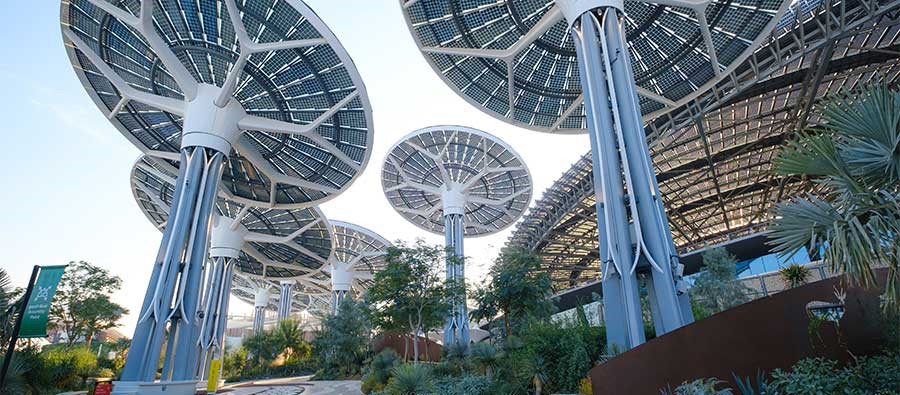 Blog
Operators gear up for Dubai Expo this October
Go back to main page
Operators are advised to begin planning their operations ahead of Dubai Expo 2020, kicking off this October 1 and running until March 31, 2022.
Originally postponed due to the COVID-19 outbreak, the six-month event will be the largest global business gathering to be held since the pandemic last year.
With ongoing inoculation campaigns and more borders set to open throughout the summer travel period, Expo organizers are estimating about 25 million visitors.
Illustrating the cutting-edge technology and engineering innovation promised, the Expo's Sustainability Pavilion is an impressive structure boasting a 130 meters-wide roof canopy surrounded by "Energy Tree" structures fitted with more than 1,000 solar panels to power the event. (Pictured above)
Construction is also underway on a rotorcraft terminal that will facilitate air mobility to and from the Expo site, offering VIP and charter services outside larger private airport facilities.
Dubai health screening
Travelers coming from South Africa and Nigeria (even in transit) in the last 14 days will not be able to enter Dubai. This is not applicable to UAE nationals and those on diplomatic missions. Members of diplomatic missions traveling from Nigeria must present a negative COVID‑19 PCR test certificate from an authorized laboratory.
All passengers arriving in Dubai from any point of origin (including GCC countries) must have proof of a negative COVID‑19 PCR test certificate acquired not more than 72 hours before departure.
The certificate must be that of a PCR test – other types of testing like antibody tests and home testing kits are not recognized. Travelers must carry a printed copy of their certificate in English or Arabic– SMS and digital certificates are not accepted. PCR certificates in other languages are acceptable if they can be validated at the originating station.
UAE nationals are exempt from the above but will be required to take a COVID‑19 PCR test on arrival.
Other exemptions are children under the age of 12 years and passengers who have a moderate or severe disability.
Passengers arriving in Dubai from the countries below must take another COVID‑19 PCR test on arrival.
Passengers transiting through Dubai from the below countries, are required to present a negative COVID‑19 PCR test certificate for a test taken no more than 72 hours before departure and must follow any requirements mandated by the country of their final destination.
Afghanistan, Angola, Argentina, Bangladesh, Brazil, Cambodia, Chile, Croatia, Cyprus, Czech Republic, Djibouti, Egypt, Eritrea, Ethiopia, Georgia, Ghana, Guinea, Hungary, India, Indonesia, Iran, Iraq, Israel, Ivory Coast, Jordan, Kenya, Lebanon, Malta, Moldova, Montenegro, Morocco, Myanmar, Nepal, Nigeria, Pakistan, Philippines, Romania, Rwanda, Russia, Senegal, Slovakia, Somaliland, Somalia, South Africa, South Sudan, Sudan, Syria, Tajikistan, Tanzania, Tunisia, Turkey, Turkmenistan, Uganda, Ukraine, Uzbekistan, Vietnam, Zambia, Zimbabwe.
Passengers transiting through Dubai from all other countries do not need a COVID‑19 PCR test unless required by their final destination.
Travelers who must take another COVID‑19 PCR test at the airport must remain in their hotel or residence until they receive the test result. If the result is positive, they must stay in isolation and follow the Dubai Health Authority guidelines.
All travelers entering Dubai must download the COVID19 – DXB Smart App.
For the latest information on traveling to Dubai Expo 2020, visit UAS Blog.
UAS Middle East headquarters are located in the Dubai Airport Freezone from where our expert team provides the best trip support, charter, and executive travel solutions. For support with your flight operations to Expo 2020 in Dubai, contact UAS.