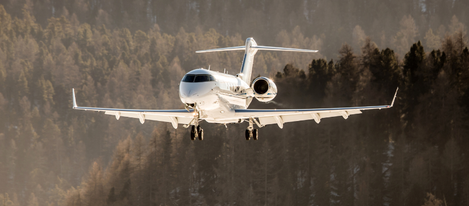 Blog
Private Jets Contributing to a Sustainable Future for All
Go back to main page
Some political interests in Europe recently condemned private jet usage due to their perceptions of its impact on the environment. Certain politicians called for more thorough regulation of private jets, some said that taxation should be increased, and others even suggested that private jets should be totally banned. But penalizing the industry and unfairly branding it a big polluter is not representative of reality, and certainly is not the answer. In truth, business aviation's global CO2 emissions account for only 2% of all aviation and 0.04% of global man-made carbon emissions! As has been proven by GAMA and IBAC studies, business aircraft are operated for specific missions, and they fly efficient, direct routes between airports. On top of this, the industry is also doing a lot of good work to secure the future of aviation as eco-friendly and carbon neutral.
As the EBAA has rightly stated, banning business jets would only serve to halt the sustainable future of aviation. The business aviation community has made great commitments to becoming a steward of the environment (aiming to achieve net-zero emissions by 2050) and in doing so, setting a good example for other industries. It has done this by taking active measures to reduce its carbon footprint as well as engaging in partnerships for cleaner infrastructures. Through collaboration with air traffic management (ATM) providers to accelerate the modernization of air traffic infrastructure and procedures, CO2 emissions will be considerably reduced. For instance, over the past 15 years, the industry has decreased emissions per hour, per flight, and per business aircraft by 36%. Along with developing and implementing Operational best practices to reduce fuel usage, these programs will deliver 14% of the overall CO2 reductions by 2050. Another important factor is the development of new sustainable technologies that business aviation is spearheading and that can be adapted to other areas in the future.
Politicians would also do well to better understand the massive contribution business aviation makes to the wider economy and society at large. Employing just under 400,000 people, it contributes close to 90 billion EURO to the annual European GDP. BizAv also played a hero's role in moving essential cargo during the darkest days of the pandemic when commercial aviation was powerless to assist. Considering the highly skilled jobs it creates, as well as the plethora of other industries that benefit from business aviation movements, it would be wise for policymakers to acknowledge this before staging a witch hunt.
The bottom line is that we need a healthy business aviation industry for the sake of the economy and travel efficiency, but also for the will and the investment in achieving carbon neutrality. It's time to stop demonizing private travel and benefit from its unique contributions.
For more Executive Insight, visit UAS Blog