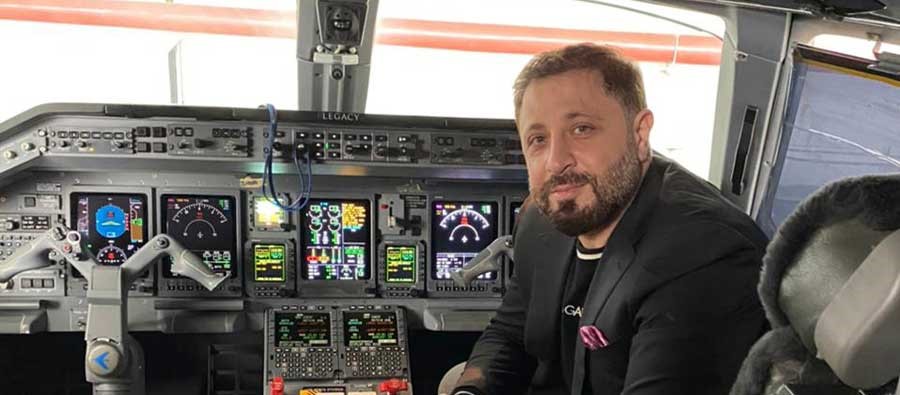 Blog
Reaching for the Stars: Aviation as a Lifelong Passion
Go back to main page
To say that I've always been more interested in looking up at the sky than at anything on the ground is something of an understatement. As a kid, a jet's white contrails mapped routes to adventures on the other side of the world that fueled my imagination for hours on end. And if you handed me a toy airplane, a day's worth of play was taken care of!
Looking back, perhaps it comes as no surprise that my love for aviation is built into my DNA. Hailing from a family with a rich history connected to the development of the region's civil aviation sector, both my brother, Mohammed and I laid our aviation roots in Syria, following the lead of our father, Hisham. An old-school aviation man, my father taught us that if we wanted to reach for the stars, we needed to learn how to fly.
And that's exactly what we did!
Turning a passion into a career
People say, "Do what you love, and you'll never work a day in your life." As a passionate aviation enthusiast, I knew I had to do something in aviation but finding that niche specialty in an industry where the skies are monopolized by big names (and even bigger aircraft!) was not an easy task.
Inspiration struck in early 2000 when Mohammed and I partnered with two entrepreneurs to set up a small company that provided supplemental services in the aviation sector. And like any new business venture, it required a lot of blood, sweat, grit, and determination. I was studying to finish my degree while simultaneously trying to get a new business literally (and metaphorically) off the ground. Often 24 hours in the day were not enough to get everything done, and 16-hour workdays were standard operating procedure.
Ready for takeoff
I firmly believe that hard work always pays off. UAS established its first office in Dubai with only a handful of employees to serve a few clients in the Middle East. Through consistent determination, strategic management, and professionalism, the enterprise steadily grew to serve an ever-increasing number of cities, states, and countries. By the end of 2014, we had headquarters in Houston, Texas in the USA, Johannesburg in South Africa, and Hong Kong, as well as regional offices in Lagos, Nairobi, and Beijing.
Since then, there has been no looking back. Today, UAS has a global presence in 31 countries, an aviation team of experts from more than 50 nationalities who speak more than 42 languages and are available to clients 24/7/365 to deliver seamless aviation support and customizable travel solutions.
In thrust we trust
If there's one thing Mohammed and I learned from our father, it's that forward momentum is key in our industry. But no company can make progress without the support of its people—they are our family and share in the organization's success in every way. That's why we are driven to lead from the front. We aim to not only deliver an unparalleled customer experience but also lead the sector through education and awareness towards new technologies that are kinder to the environment.
With the aviation industry at the receiving end of criticism about carbon emission levels, the responsibility falls on our shoulders to pioneer a more sustainable future for the sector. Aviation sustainability is a personal passion that I am proactively working towards through awareness campaigns and something I'm proactively working toward through awareness campaigns and my continuing association with the International Business Aviation Council (IBAC).
The skies are (not) the limit
I've always believed that constantly readjusting goals is important for any organization if they want to prosper. You have to continue to go the extra mile if you want your vision to stand out from the rest. Of course, there will be setbacks where you stumble but you need to get up and try again until you get it right.
Persevering, trusting our intuition, and staying the course while facing headwinds has stood us in good stead, and now we really are living our dream.
Often people will say, the sky is the limit. To those who love aviation, the sky is home—it's our natural habitat and there's no other place to go but up!
For more Executive Insight, visit UASBlog