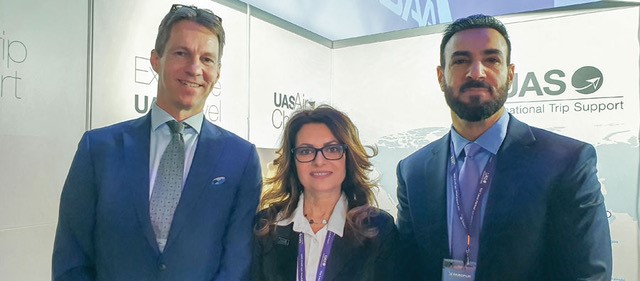 Blog
UAS discusses future operational challenges at AIR OPS 2020
Go back to main page
UAS discusses future operational challenges at AIR OPS 2020: AIR OPS 2020 just took place in Brussels and the UAS team attended the popular European event for business aviation flight operations professionals.
UAS was invited to present to delegates at the event's educational session where Vice President – Sales, Abdul Charafeddin spoke about future operational challenges in Africa and the Middle East.
He cited a number of socio-economic, political, and infrastructural issues that affect smooth operations including differing regulations between authorities, excessive red tape, lack of infrastructure, and political unrest, as well as sharing his future predictions.
Pictured: EBAA COO, Robert Baltus with UAS Business Development Manager, Europe. Laura Crivelli and UAS Vice President – Sales, Abdul Charafeddin at AIR OPS 2020