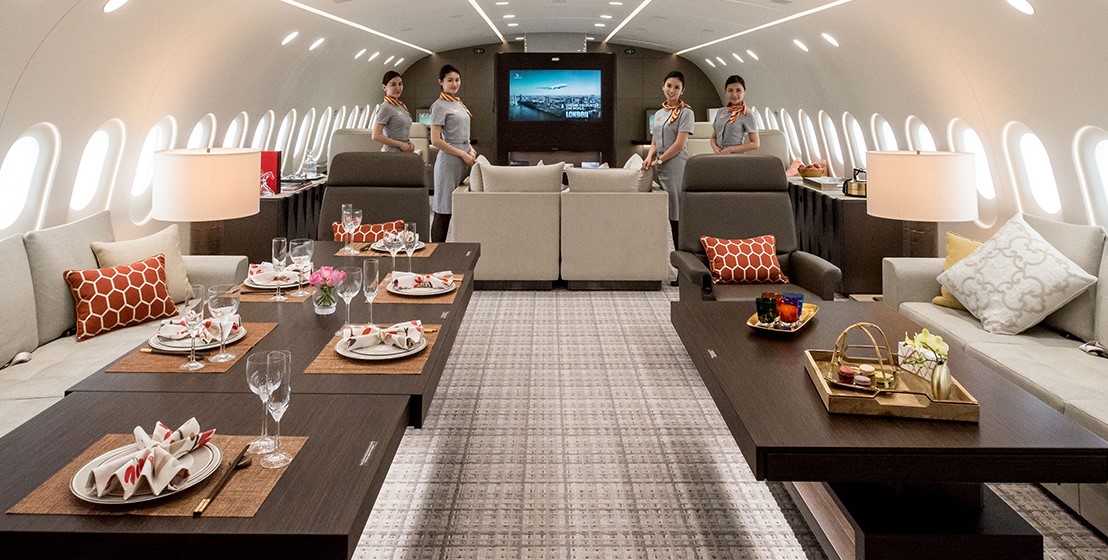 Blog
UAS Wins Worldwide Charter Management of Deer Jet's Dream Jet
Go back to main page
UAS Wins Worldwide Charter Management of Deer Jet's Dream Jet: Deer Jet has granted its strategic partner, UAS International Trip Support, the exclusive global charter management of the "Dream Jet", the world's only BBJ 787 in VVIP configuration.
The Dream Jet has attracted international attention throughout its "Dreams Encounter the World" tour which saw the one-of-a-kind aircraft welcome UHNW individuals and royal family members for exclusive viewings in several places globally, including Paris, Marrakech, Seattle, Doha, Dublin, London, Shanghai, Hong Kong, and most recently, Jeddah.
UAS is delighted to bring the Dream Jet to Dubai Air Show 2017 where it will be a focal point of the static display. After a successful trip to Jeddah when it welcomed many of Saudi's most discerning business travelers and Royal family members for private tours, the Dream Jet will host some of the UAE's top VVIPs at Al Maktoum International Airport throughout the week of Dubai Air Show.
Mr. Omar Hosari, UAS Co-Owner/Founder and CEO said: "We are honored to be exclusively managing this magnificent aircraft and to be thus singled out in a highly competitive corner of the industry. The Dream Jet is an exquisite aircraft, unlike anything else available on the planet so we're expecting a high level of interest."    
Mr. Zhang Peng, Chairman of Deer Jet said: "The 787 Dream Jet embodies our brand motto of "Making Travel and Art". And the aircraft has received lots of attention from costumers in the Far East. We already have operations in the Middle East, serving the area with a fleet of long-range BBJ, Gulfstream 550 and 450 series. The size and diversity of our fleet can effectively serve the Middle East, Europe, and the global market. We believe that Deer Jet's operational capabilities coupled with UAS expertise in trip support will create the best flight experience for our customers worldwide."
Deer Jet and UAS concluded a partnership deal in December 2016 when UAS became the flight support partner for the impressive fleet of 90 aircraft that Deer Jet operates and manages. The alliance has significantly enhanced both companies' capabilities and is accelerating strategic goals to revolutionize international business flight and user experience.
Visit UAS at Dubai Air Show from November 12-16, Chalet B12, to view its charter fleet.