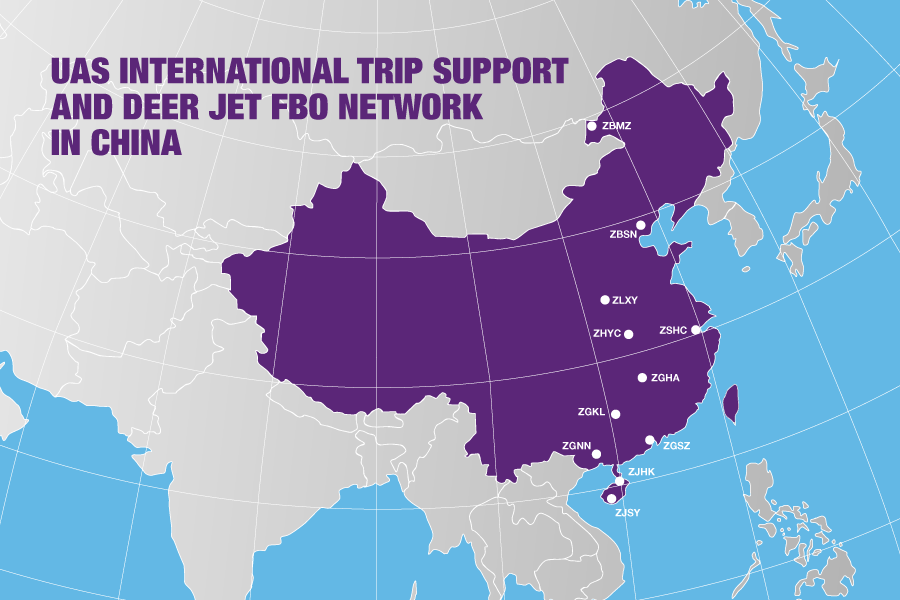 Blog
UAS Significantly Boosts Ground Presence and Customer Care in China
Go back to main page
UAS Significantly Boosts Ground Presence and Customer Care in China: UAS and Deer Jet Partnership Secures Advanced Levels of Service and Cost-Efficiency across China's Largest FBO and Station Manager Network.
Global trip support solutions provider UAS International Trip Support (UAS) announces an advanced-level partnership with Deer Jet that significantly expands its presence across China and ensures its clients receive special privileges across the region's largest FBO network and station manager network.
UAS clients will benefit from both preferred pricing and priority of service provision when compared to other operators at Deer Jet's 11 world-class FBOs located at key commercial and travel hubs in China. These 5-star facilities offer a full complement of aviation services 24/7 including ground handling and fuel, VIP airport services, executive lounges, passenger and crew services, aircraft cleaning, and maintenance services.
The expanded UAS China network also guarantees the UAS Standard of Quality at each of the FBOs, some of which are the only fixed based operators available at their destinations. On-the-ground supervision by UAS Station Managers will now be available at these eleven stations as well as across 180 Chinese airports owing to Deer Jet's extensive ground presence.
Omar Hosari, UAS Co-Owner/Founder and CEO said, "Access to a bigger network means better advantages for our clients. We're now in a position to ensure they benefit in terms of the best service and cost-efficiency through our extended Chinese ground presence. We're committed to giving our clients exactly what they want and enhancing their user-experience; this latest announcement is a result of the synergies facilitated through our partnership with Deer Jet."
Xu Lidong, President of Deer Jet said, "Deer Jet has built the largest FBO network in China with 11 locations at the busiest hubs for business jet traffic. Having strategic partnerships with Gulfstream, Honeywell, Dassault and all major manufacturers and leading service providers, in addition to our FAA repair station certificate and IS-BAO stage II registration, put Deer Jet in a privileged position to deliver best-in-class services for UAS clients in China and worldwide."
The FBO locations include:
Shenzhen-Bao'an International Airport (ZGSZ) Guangdong
Sanya Phoenix International Airport (ZJSY) Hainan
Haikou Meilan International Airport (ZJHK) Hainan
Nanning Wuxu International Airport (ZGNN) Guangxi
Xi'an Xianyang International Airport (ZLXY) Shanxi
Hangzhou Xiaoshan International Airport (ZSHC) Zhejiang
Guilin Liangjiang International Airport (ZGKL) Guangxi
Changsha Huanghua International Airport (ZGHA) Hunan
Tangshan Sannvhe Airport (ZBSN) Hebei
Manzhouli Xijiao Airport (ZBMZ) Inner Mongolia
Yichang Sanxia International Airport(ZHYC) Hubei
Since its partnership with Deer Jet -a subsidiary of the Fortune Global 500 HNA group- in 2016, UAS has accelerated growth and expansion plans globally while continually striving to enhance the user experience.
For support with your flight operations in China, contact UAS