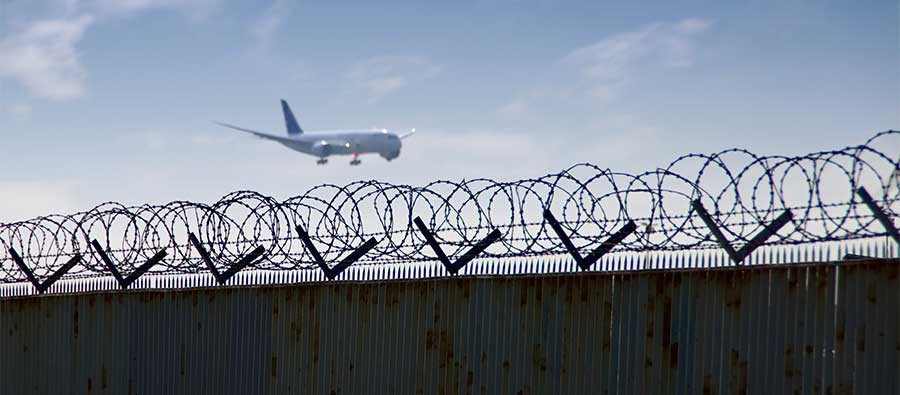 Blog
Security in Africa – Part 1: Threats
Go back to main page
Security has always been a concern for those operating in Africa. In some ways, the pandemic has made things more secure on the continent as people's movements are more restricted and protocols more closely adhered to. Although the amount of traveling public has significantly reduced, security agents have intensified their efforts at checkpoints to ensure COVID-19 is contained. This has resulted in an increase in security personnel to monitor and control the situation. However, there are emerging concerns that while focus and attention are shifting to addressing public health threats, less attention may be paid to conventional aviation security threats. The UAS Africa team works on the ground throughout the continent to ensure clients and their aircraft are protected. Here are some of their insights.
Security threats to operations in Africa
Security threats in aviation have generally been minimal in Africa and for many years there have been few reported cases. These are usually concentrated in specific areas that have larger underlying national security issues. The threats differ from country to country and can be categorized as follows:
Insurgent groups operate mainly in Somalia, Northern Mozambique, and some parts of West Africa and are often affiliates of international terrorist organizations wishing to expand their territories. They include Al Shabab, Boko Haram, and ISIS. They normally make random attacks on civilians in major cities. While attempts at attacking airports and aircraft have been made in the past, they have never been successful.
Instabilities in conflict zones and other troubled areas in Africa have resulted in the emergence of local militia and armed groups. These groups are always seeking soft and profitable targets in areas such as Northern Mali, North Eastern Nigeria, Somalia, and others.
Cybercrime including software attacks, theft of equipment or information, credit card theft, and information extortion.
Security breaches at airport access points due to corruption or inadequate enforcement and compliance by authorities of security policies, SARPS, and ICAO recommendations can be related to lack of funds or inadequate training and technical expertise.
Increasing airport traffic without corresponding growth in capacity building, technology, equipment, and infrastructure to deal with the growth and accompanying threats leaves a huge gap open to exploitation by opportunistic groups to threaten operations.
Implications for ground handling
The stringency of security measures differs between airports and in some countries, the security checks could extend the check-in time by more than an hour. In many cases, extensive security checks can be disruptive to passengers and crew especially when similar checkpoints are placed within a few minutes of each other.
Access control for specialized vehicles into the airside could also affect handling services and result in delayed delivery of services. These include ground ambulances taking patients to the aircraft and specialized equipment like cranes that are normally sourced externally for specific cargo off/on loads. On the other hand, poor access control could result is crimes being committed at the airport affecting passengers and crew.
Cyber insecurity can result in flight delays occasioned by failed internet-based systems. These could affect the transmission of flight messages including load sheets and flight plans. It can cause confusion at check-in when passengers find their bookings missing or interfered with.
Threats could also imply possible disruption of air services such as distribution of critical medical and relief supplies in conflict zones and disaster areas, as well as commerce.
Finally, lax security can facilitate criminal activity and compromise lives, aircraft, and equipment in the event of any attacks.
Don't miss our next blog on how to minimize and mitigate risks for operators on the continent. 
UAS can provide you with optimal security throughout the African continent.
For information on UAS Risk Mitigation solutions, click here.
For support with your operations to Africa, contact UAS.