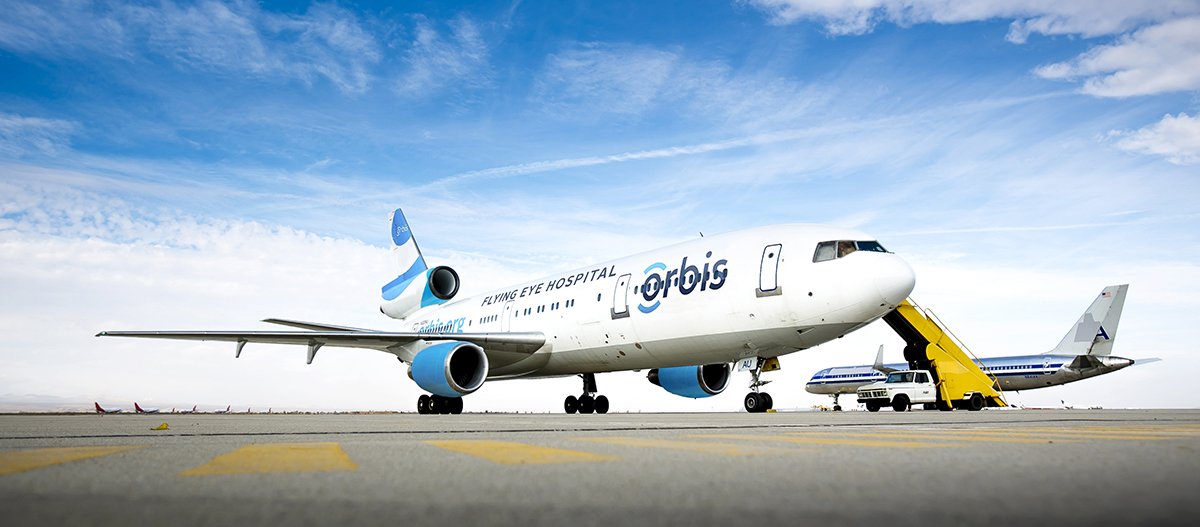 Blog
UAS International Trip Support Sharing Vision with Orbis
Go back to main page
UAS proud to support the international blindness prevention NGO through raising vital funds and awareness worldwide
Aviation is at the core of both UAS International Trip Support and Orbis, as is the wish to improve the lives of people all over the developing world. UAS has become a fundraising partner of the NGO that treats and prevents blindness. Orbis is a natural partner for UAS, as it marries aviation capabilities, the power of accessibility and a vision of a more just world achieved through humanitarianism. Chairman of Orbis UK, Dr. Robert Walters met with Mr. Omar Hosari, UAS Co-founder and CEO, during a recent visit to UAS' Middle East headquarters in Dubai.
Orbis is a not-for-profit organization that transforms lives globally by preventing and treating avoidable blindness and by training healthcare practitioners. The charity is the result of a unique partnership between the aviation and medical industries dating back to the 1970s. At its inception, the major concern was that the expense of travel and tuition fees prevented a lot of medical professionals in developing countries from expanding their knowledge by participating in overseas training programs. From this came the novel idea of a mobile teaching hospital capable of flying anywhere in the world with a team of volunteer doctors and nurses ready to give training to their industry colleagues in Africa, Asia, Latin America and the Caribbean. Orbis' achievements have since grown year on year. Since 1982, Orbis has served 92 countries, trained 305,000 medical professionals and improved more than 23.3 million lives. Each year it collaborates with hospitals and governments in developing countries to conduct training, research and provide advocacy worldwide.
 "We at UAS are drawn to pioneering feats because we recognize our own spirit in them. This is why we are so proud to support Orbis, a charity that undertakes life-changing work to improve the sight of people in the some of the most poverty-stricken countries of the world," said Mr. Omar Hosari, UAS Co-founder and CEO. "Having the passion for aviation that we do, we were drawn to the use Orbis makes of it with the Flying Eye Hospital. It's an amazing resource and pushes the boundaries of capacities, making any location accessible," Mr. Hosari added.
Orbis UK Chairman Dr. Robert Walters also expressed pleasure at the new partnership. "We truly value our relationship with UAS- as a big international organization they can help to raise awareness and vital funds within the aviation industry," said Dr. Walters. "Giving back in life is the most satisfying thing you can do. Going to the nations we serve, some areas have no water, no sanitation. We can provide hope to these people. It's difficult to comprehend the poverty in which they live, how disease drags them down. In developing countries, 60% of children die within a year of going blind. We can and are changing this," he added.
Dr. Walters is as comfortable discussing logistics with UAS staff as he is discussing eye medicine. That is because, as well as being a consultant ophthalmologist, Dr. Walters is also a pilot. He holds a Private Pilot License (PPL) and has been flying since the age of 18. He first got involved as a volunteer in 1994 and joined the UK board in 2003, serving as Chairman of Orbis International from 2008 to 2013 and of Orbis UK until now. "I was drawn to Orbis because it combined my two big passions; eye medicine and aviation. In certain countries, if a child is born with, or develops, blindness, it can be catastrophic. They become an economic drain on their family, their community; they won't be able to work or be educated. Life is made exceptionally difficult," said Dr. Walters. "At Orbis, we engage with governments, working within their national health plan in an open-handed, open-hearted and philanthropic way. We have amazing partners and are delighted to have the support of UAS – it's amazing what can be achieved through the power of partnership," he added.
According to The World Health Organization, 80% of blindness worldwide can be prevented or treated. This need is greatest in the developing world- exactly where quality healthcare is out of reach for the majority of people. "The vast majority of blindness can be prevented. Saving someone's sight is the equivalent to giving them their life back- particularly in geographical areas where being blind means you can't work. We are proud to support Orbis, a truly tremendous organization providing life-saving aid to people worldwide," said Mr. Hosari.
The power of access and how it can change people's lives for the better is a central component to the philosophies of both Orbis and UAS. Orbis' Flying Eye Hospital is an amazing and iconic resource. A custom-made, fully equipped mobile ophthalmological hospital and learning facility housed in a DC10 aircraft. It has a classroom that seats 48, a full surgical suite and a laser room. A great feature in the company's advocacy efforts, the aircraft is a physical representation of the awesomeness of the charity's work. Orbis has commissioned the outfit of a new aircraft- an MD 10- to replace the DC 10. It is currently nearing completion and is expected to be another state-of-the-art facility with a glass cockpit featuring digital flight instrument displays instead of analog dials and gauge.
Many of Orbis' programs focus on the treatment and prevention of childhood blindness, cataract, trachoma and corneal disease and diabetic retinopathy. "Of the 39 million people globally who suffer with blindness, 48% is due to cataracts. All it takes is a simple 15-minute operation to easily remove the cataract," according to Dr. Walters. Another condition that Orbis battles is Blinding Trachoma – chronic conjunctivitis that with repeated infection causes the eyelids to turn inwards, scrapping the lashes across the eye with every painful blink. Like cataracts, it is also treatable. "We rely on the collaboration of governments, airports and aviation companies. Volunteers are selected for missions based on their specialist knowledge and what needs to be taught on the mission," said Dr. Walters. Once on the ground, Orbis begins to train medical teams to build knowledge, efficiency and confidence. Training is not limited to doctors and nurses but focused on improving the skills of the entire team. "We train everyone from doctors and nurses in the latest medical techniques and procedures, to the biochemical engineers who repair the delicate equipment that is used for eye procedures as it can be easily effected by hot temperatures, dust or air conditioning," Dr. Walters added.
Both UAS and Orbis are delighted at the prospect of raising vital funds together. "We are delighted with UAS International Trip Support and the incredible enthusiasm of its staff," said Dr. Walters. "We look forward to a long partnership with Orbis, supporting their vital work and celebrating the constant innovation of capabilities that aviation provides," concluded Mr. Hosari.