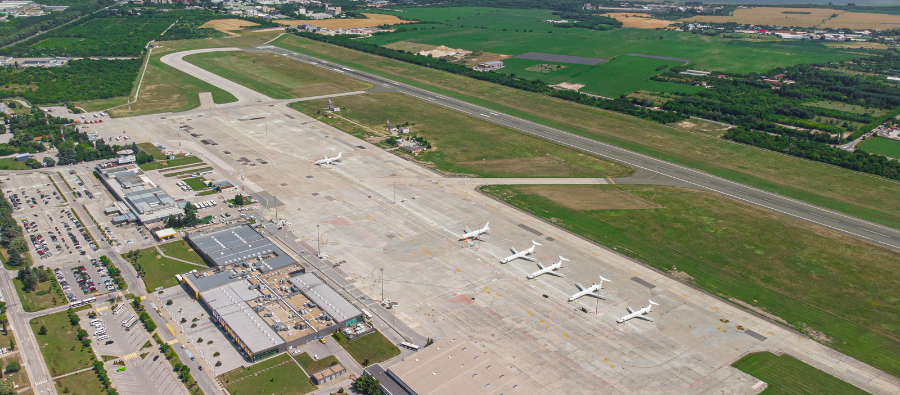 Blog
The Rise of Green Airports
Go back to main page
Mention sustainable aviation and most people's thoughts will go directly to jet fuel and Co2 emissions. However, there are other aspects to the industry's efforts to become greener and eco-friendly… carbon off-setting being adopted, more sustainable materials being used in manufacturing and design, and advancing technology enabling greater efficiency. In recent times we are also seeing the rise of the green airport… a smart, more streamlined infrastructure that is aimed at helping the environment and the user.
Airports all over the world are becoming more focused on enhancing their sustainability in a number of ways including generating energy through renewable sources, such as energy management, and reducing noise and air pollution. Increased digitalization is also being adopted to advance automation, security, and efficiency, and garner better operational insight. Many airports have also voluntarily pledged to achieve n-zero carbon emissions by 2050.
The aim of carbon-neutrality has inspired Airports Council International (ACI) Asia-Pacific to select Carbon Management as the theme for Green Airports Recognition 2022. This year, twelve "green" airports have been recognized. Amongst them was Hong Kong International Airport, celebrated for its Weather Forecast for Air-Conditioning Control System (Weather FACTS) Project, and Kuala Lumpur International Airport for Embracing Green Energy of Ground Power Unit (GPU) for Sustainable Carbon Management. With less than five million passengers a year, Hawke's Bay Airport was honored for its 100% Renewable Carbon Zero Electricity, and Nadi International Airport for its Terminal Modernization Project – Carbon Emission Reduction Initiative.
These are impressive feats for these airports and the eight listed by ACI Asia-Pacific… Let's hope they not only inspire other airports to step up their sustainability efforts but also inspire us all throughout the industry to enhance our own sustainability as best we can at every opportunity. No doubt we will be seeing greener airports in the months and years to come.
Find out more about the ACI Asia-Pacific Green Airport Recognition program here.
For more Executive Insight, visit UAS Blog